As a child the Nautilus as it appears in the 1954 Disney film captivated me.

The gothic looking submarine with its monstrous looking eyes was very alluring. I have always wanted a model of this submarine and over the years a few decent models have been made of her.
A few years back my brother and I visited the Model Engineering Show at Olympia in London - A guy there had an absolutely massive version for sale, easily around 5ft in length and quite capable of destroying the local model boat club's flotilla in mere minutes! (a boyhood dream)

Sadly, both price and space were not on my side that day, but Rhaven Black kindly supplied me with this version which shall satisfy my current needs.
Not
sure if this
version
is in the
resource
section, but if in doubt see R.B
Around 78 parts make up the model, and as custom on my builds of late, I had my local copy shop,
enlarge
this up onto A3 sheets.
Giddy with excitement and rubbing my hands with glee... *I set sail to own my Nautilus - *Come with me as I dive in!
(*This build will no doubt be full of nautical puns)
. . . . . . . . . .
Sorry for the low light on these first two shots, as I was away from the bench, due to technical reasons.
78 parts on seven sheets are the order of the day here, with a further 9 making up the stand (sheet not in picture)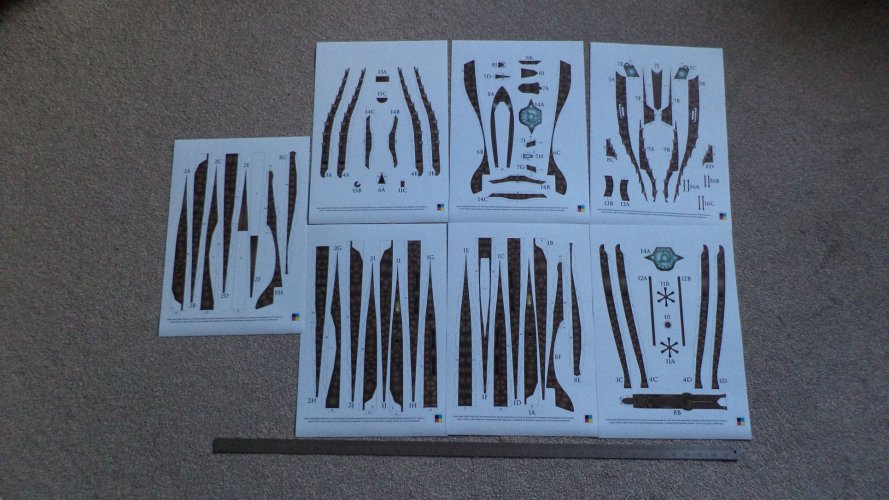 Parts have good register and offer a nice rendition of the boat.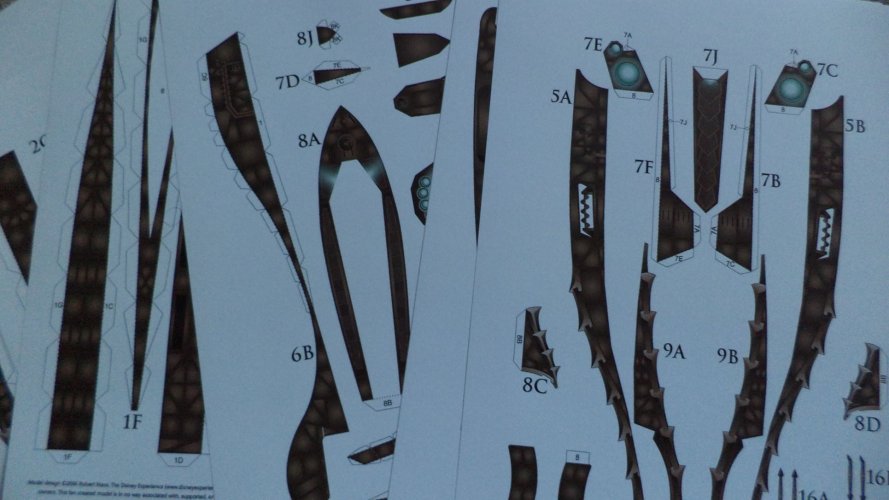 Stand assembly is the first order of the day...there's no instructions for this, but I'm happy it will become apparent when pieces are built.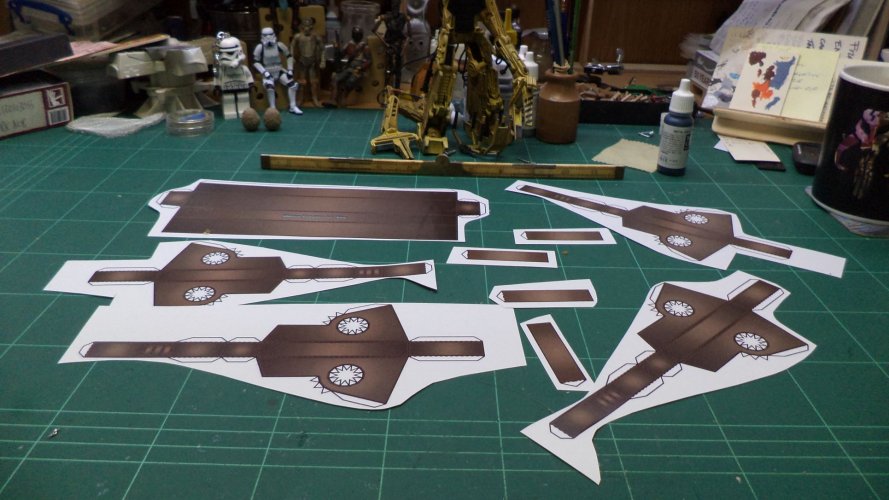 On this build I will be cutting off the tabs and re-setting them underneath - I think I've had just enough experience now to edge bond, rather than rely on tabs. Certain areas warrant it, but I would like smooth edges on my constructions from now on.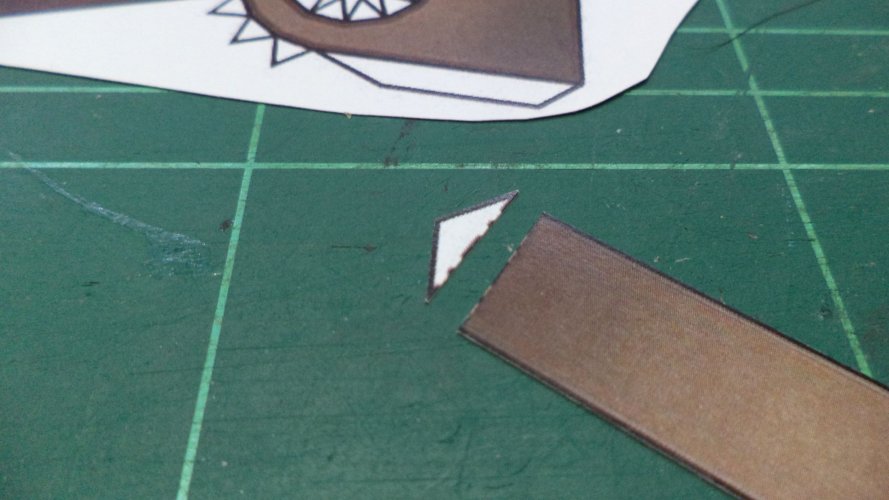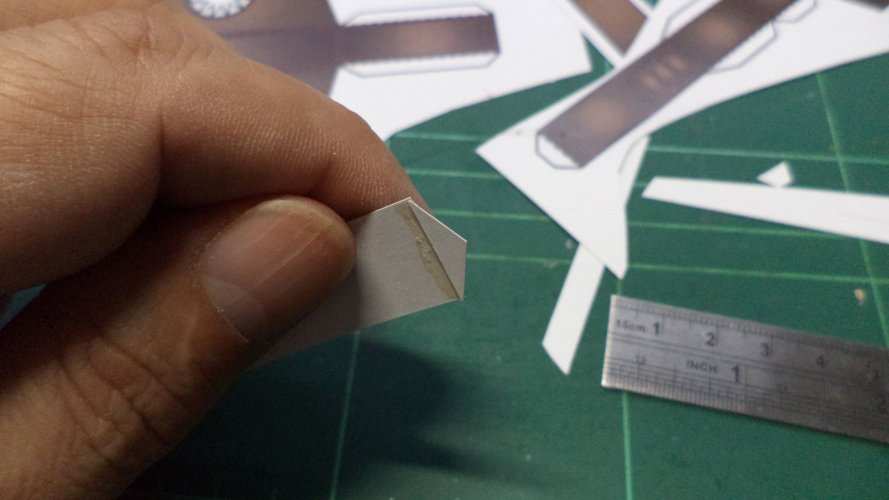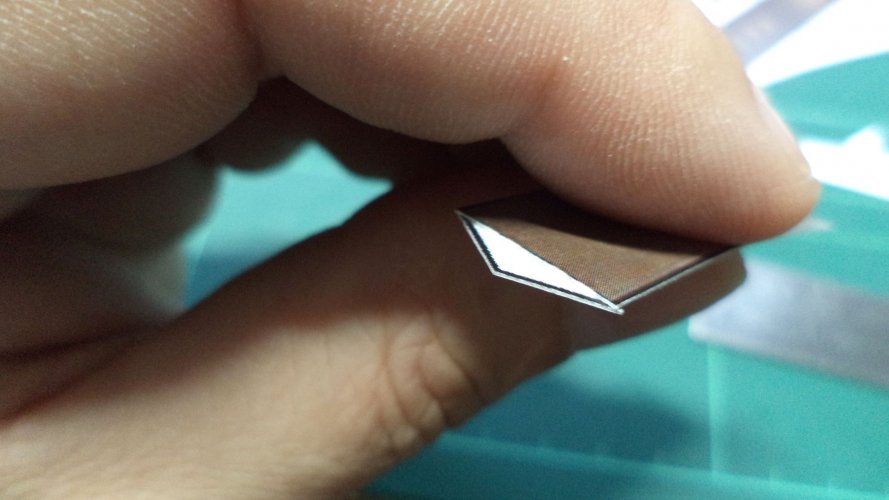 Unfortunately, due to a spectacular and horrific spillage of super glue - the build abruptly comes to a full-stop today.