Dec 15, 2008
2,624
351
78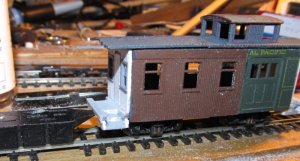 Test fitting trucks
I'm test fitting some trucks, I have some old Central Valley archbar trucks , and I'm going to try them. they roll very well. I have had some trouble with ancient HOP Central valley trucks, that I believe result from unequal spring tension. they worked fine 45 years ago, but derail a lot now. hopefully these Hon3 trucks won't have that issue.
KD HOn3 coupler height gauges have this neat feature, that lets you test the correct floor height for mounting couplers. Until recently all Hon3 cars were craftsman kits, and most came without trucks and couplers, and getting the coupler height right was hell.
so the KD coupler height gauge had this bar that projected from the other side, If the bar would just barely slide under the floor the coupler height will be right.
Last edited: