Dec 15, 2008
2,624
351
78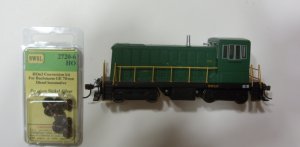 My name is Bill Nelson, and I mainly live over in the logging , mining, and industrial railroads section. My DG, CC, & W RR in Ho gauge standard, and up on top of Iron Mountain , there is a Narrow gauge feeder line that delivers Iron ore and logs to a reload @ the standard gauge .
We also have an HOn3 section @ the train Club in Clarksville Tn.
I have two Hon3 projects getting ready for the engine shops, and I thought I'd open up a locomotive shops thread over here in the narrow gauge section. Anyone doing HOn3 engine work, feel free to post here.
I have a FED 4-4-0 I am getting ready to improve the electrical pick up on, and paint. Later it will get the Locodoc remotor kit, which with the improved electrical pick up, will make it a very fine running, if somewhat plain locomotive.
I also have a Bachman HO GE 70 ton diesel which I am about to narrow with NWSL wheel set, following the article by the Hauf brothers in the August 2008 RMC . @ our the Club I have been keeping a MDC 2-8-0 on the narrow gauge at the club , as none of us want to leave any of our shays there. The top end of the grade is too steep for the consolidation, so I'm building the diesel, so we have a resident locomotive that can make the grade
I will post photos as I make progress. I love the narrow gauge, but I don't model Colorado, and don't want anything as big as the D & R G W mikados,
Bill Nelson
Last edited: