Dec 14, 2008
2,680
467
78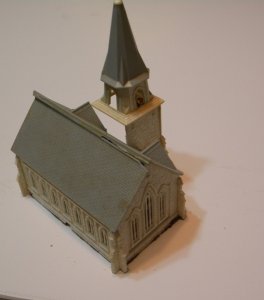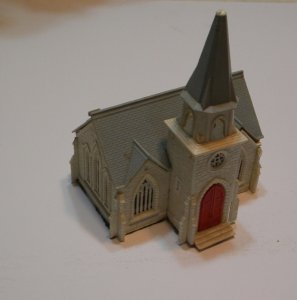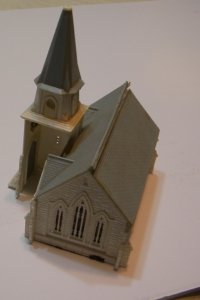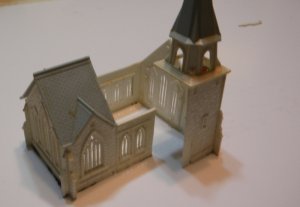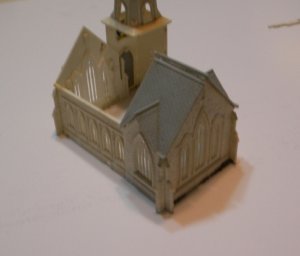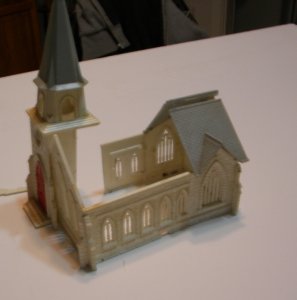 At our local club (Clarksville Tn. USA, see Bill and Tom's excellent adventure), we have boxes and boxes full of buildings that have been donated. Some of them are worse for the wear, and some of them are missing pieces.
When digging through those boxes I kept comming across an old Plasticville Church, now sold by Bachman and labeled a catherdral.
I really liked the rock work, and the detailing of the windows, but it was missing some pieces, and the building was just wrong. The details are right for an English Gothic stone church ( I know cause I'm a lifelong Episcopalian.) the architecture is wrong though; with the tower, and the gables set up in a non traditional way.
I have hunted through all of the boxes , and the missing pieces are not there. I finally decided to cut up what is there, and rearrange it into into a more theologically correct building ; having elements of a cruciform shape, with those gables moved off that one wall, and opposite each other at the east ( front-alter) side as god intended. I'm moving the Bell tower to the front (really the rear, the east side (with the alter, weather it really faces the east as it should, or is forced into some other direction by lot shape, or some other geographical concern) is really the front. It gets confusing.
I'll have to scrounge some "stone" from another source to fill in the blanks. the top of the steeple will have to go, it is generic Presbyterian , not Anglican at all. This is fun, I wish I had more pieces. Bachman still offers this, I may buy another two, and build something bigger.
I don't know where this is going yet, it could land on my RR or at the club. Enough of my surplus stuff goes to the club, so I don't feel guilty raiding club surplus for at home, but I already have six churches on my home layout, I could use one in Harlow, my big city, but I haven't found room for one there yet.
Bill Nelson
Last edited: