My name is Rich, from Central Pennsylvania. One of your senior Administrators, Zathros, introduced me to this forum and invited me to join and introduce myself. I met him on a motorcycle forum and we connected when he shared a pic of a paper model BSG Viper over there. I was immediately intrigued. Big fan of BSG, but I have very little experience with paper modeling. When I was a kid, I built lots of plastic model kits of cars, planes and ships, and lots of Estes model rockets. In college and in my first career, I used to build architectural models from foam board, card stock, balsa wood, etc. My most recent model building experience is with stamped metal Star Wars vehicles, pictured below, with an eclectic collection of MINIs and other sci-if stuff. But the prize of this collection is the cardboard TARDIS my younger son made for me when he was about 8 years old.
I'm unclear on the preferred picture posting etiquette. On the motorcycle forum where I post a lot of pictures, they don't want to host large files so they have us use a pic hosting site. I've gotten quite good at using Imgur for this and have never had an issue with broken links or changed file names.
I've researched a little on this site and found that it's OK, and possibly to preferred, to just upload the pics to be hosted here. Trying this below.
I'm experimenting to see the difference and hoping someone will tell me which is the preferred method.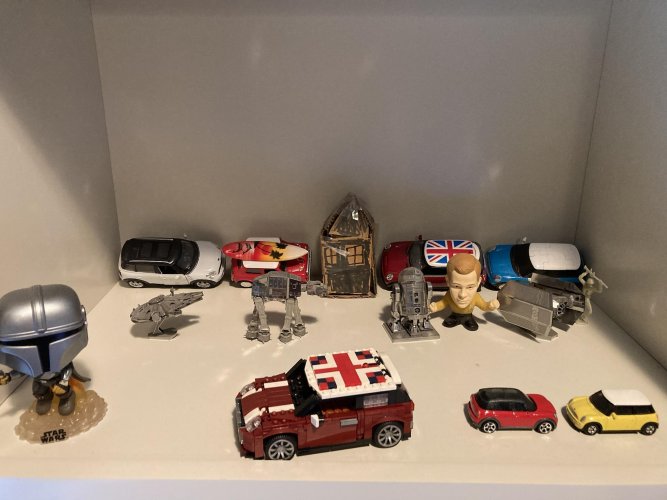 Looking forward to getting into this new hobby.
Happy Thanksgiving.
Last edited: