As in previous years, this year I will try to glue another micro diorama in a walnut. The competition was organized by minimodel.cz, but in recent years it has not been announced.
I will try to continue. The essence of this competition was to glue a model of any technique and place it in a walnut shell so that it could be completely closed. I stayed with the military theme, but this time I will try to process something from the Eastern Front. So it will be a clash of German and Russian technology, I'll see what happens ...
Past walnuts: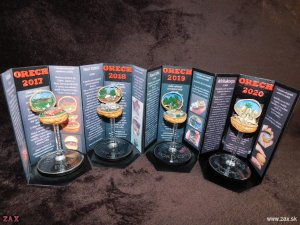 ...walnut 2017:
...walnut 2018:
...walnut 2019:
...walnut 2020:
First I managed to glue Sd.Kfz. 222 Ausf. B from R&P Models. The original is at 1:87, I reduced it to 1: 200, it has more than 100 parts, which was no longer very pastable for me at 1: 200, so I simplified where possible, but it's still for me on the edge of stickability...
Just like last year for walnut, I prepared a stem from the cup, I will still glue the base as in previous years.
A few photos of the current state: