Feb 24, 2015
230
481
40
47
Finally the wings have been mounted. I noted (obviously AFTER gleing the after a lot of dry fitting) that I did not get the printing scale right and the wings are some 3mm too long. I attendey my local copy shop where I printed the model but unfortunately they had a printer service and the colors did not come out the right way so I decided to keep the wings mounted and book this effect under "learning and doing not the same mistake again".
I tried to cover the wings up a bit with the fillets. Well... If you are more than one meter away it looks good
Next step will be the razor edge on the wings...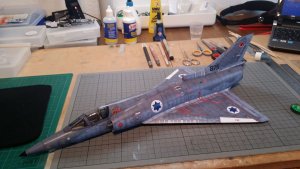 At least every model of mine has small errors... I hope that I will be better someday