Jun 25, 2005
290
158
16
56
Zathros has been talking about water forming. I think this may be what he's talking about. I'd like to see what others are doing with similar techniques. These are some models/sculptures which I made years ago before I knew what cardmodeling was. I'd been studying ceramics. I tried making the shape in clay which didn't work out very well. I decided to make the shape in the easiest and most readily available material, paper. The model is made of board held together with strips of tracing paper dipped in corn starch paste. To make corn starch paste, you boil corn starch in water is if you were going to make pie filling. It's nicest to use while it's still warm. Refrigerate if you plan to use it later. When it's cool it's kind of lumping and slimy feeling.
I laid out shapes using a compass: draw a circle with a compass, set the center of the next circle on the edge of the first, then place the next where the two circles overlap and so on. Cut the shapes on the circles. Four triangles go together wet into a tetrahedron. This allows for compound curves. Then dry and the vertices slot together. It's like building with clay with waiting for parts to dry before putting things together further. It involves being aware of the moisture of the material. My current project of geodesic spheres seems to be similar in conception.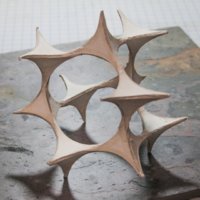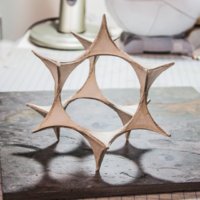 This is iterations of the current project. The triangular parts are similar and can form a compound curve. I use PVA glue which adds some moisture to the paper but which isn't as slimy as corn starch paste. It's 110 lb index, which is easier to bend than illustration board. I add a few parts at a time and let them dry before adding to the model/sculpture. PVA dries faster than corn starch paste. Like the tetrahedrons the geodesic spheres are also built out of circles. Using Coreldraw for circles is easier than using a compass.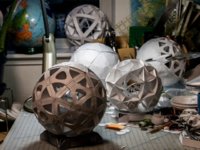 y in between.