So, I decided to make my own Rolex watch from paper with a nice classy Rolex box to keep it in!
My design and idea for the watch itself is based on the Fauxlex papercraft watch by Matthew Nicholson, however I have changed so many details (and dimensions) that it feels like a brand new design.
Still, I want to give credit to the original designer! Matt, you did an amazing job!
The Rolex watch box is my own creation from scratch!
I started with printing the inside of my watch with the classic green back side label and all the important engravings...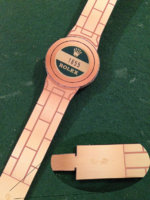 ...then turned it over and used a gold ink pen to fill in about where the spaces between the parts will be. As I built it on the back side with no help from any pattern except for the one I drew on it, it was an interesting challenge!
I also glued on a housing (just a long strip of paper curved to fit)...
Last edited: