Dec 15, 2008
2,633
367
78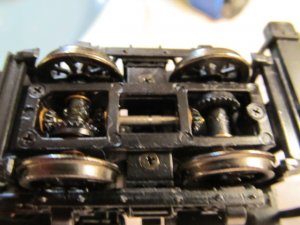 the underside of a Bachman On30 Climax truck. the truck is properly scaled. Fun fact, when Climax filled an order of a 30 inch gauge locomotive, they didn't build a special truck; instead they took a 3 foot gauge truck, and pushed the wheels in farther on the axle.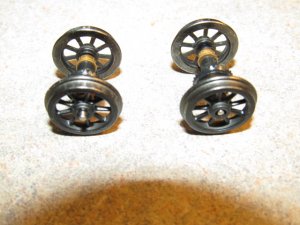 the stick wheel is shown to the left. push the wheel outward till the center hub is flush with the end of the axle, and miraculously. the wheel is properly gauged for On3.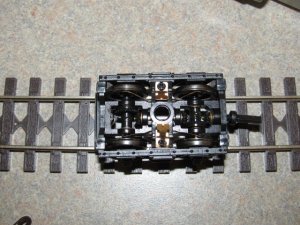 some adjustment of the electrical pick ups are needed.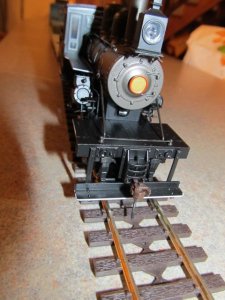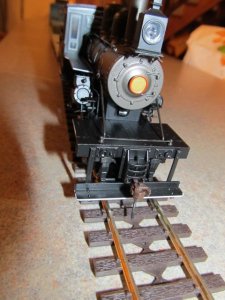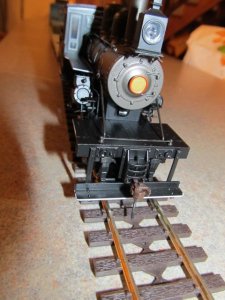 The climax ix now an On3 model I always loved the brass Flying Zoo Brass climaxes, that are very similar, but they run close to $1,200.00 I couldn't resist the Bachman unit, that I picked up on sale for $250.00. It still has the silly HO coupler, mounted at HO coupler height. I had hoped that the link and pin pin was an extension of the coupler screw, but no such luck. the pin is press fit, and can be pulled out with a pair of pliers. the top two link and pin pockets are not deep enough to be useful, and A KD On3 coupler shank is a tad to tall to fit, so I sanded two KD On3 couplers shanks down till the would fit, and cut the draft gear spring slot off. The pocket's two top slots are not deep enough, so I'll have to mill out the pocket to make it deeper.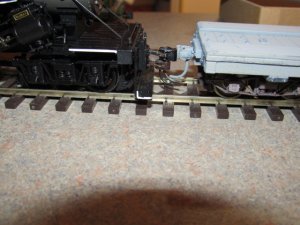 the new coupler is mocked up, sanding the bottom of the shank till it fits, gets the height just right., as shown with this Foothill models Westside equipment flat.
a word about the track, San Juan Car Co's On3 flex track, the pretties flex I have ever seen . the triangular connections are the only connections between the ties, so the ties stay nicely distributed no mater which direction the track is flexed. or how tightly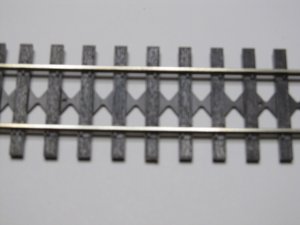 seen from the side, there is nothing under the rail anywhere, so iff you go for the new track on the ground look, it will look right.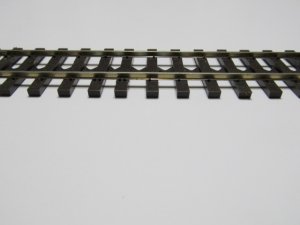 was also working on a Russian river generic box car kit, and got the under frame done, with the brake rigging detail.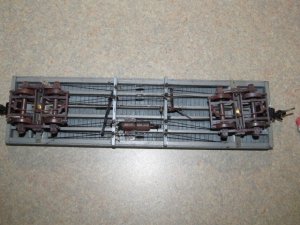 started on the body of the car. besides the box car, I have two of thier flat car kits, a high side Gon, and a short side gon. # of the kits are missing the cast underframe. but after modifying one to take the KD draft gear box, rather than a prototypical set up, with less couler swing, it may be less work to build a custom frame to start with.
I cant complain though, as I paid about $12.00 a piece for the kits with trucks and couplers included, and a bunch of Grant line details,as well as some nice stripwood, so they are a heck of a deal even if I have to cut wood, and build underframes.