Mar 17, 2007
676
119
38
32
Hey guys,
I'm still working on other projects of course, but I have another, non-paper-related project that I've been working on this summer as well: weight loss.
I'm trying to slim way the frak down, and so far I've lost about ~25 lbs or so. Thing is, I have a long way to go and I need motivation. Being healthy is great of course, but that's intangible. I need something I can actually see . . .
I suddenly had a brain storm a few days ago, though. I've always wanted to fit into a set of Imperial Stormtrooper Armor, and I have the paper model files to create it. So why not combine the two desires of weight loss and being a member of the Galactic Empire's armed forces?
With that in mind, I decided to make a deal with myself. For every five pounds of weight I lose, I will create one piece of the armor. That way, by the time I get down to a slim enough physique to be able to actually fit into the armor, I'll have my own complete set to cosplay with! It's the perfect plan! :mrgreen:
I've already lost enough weight to make five pieces, so I'm starting with the arms: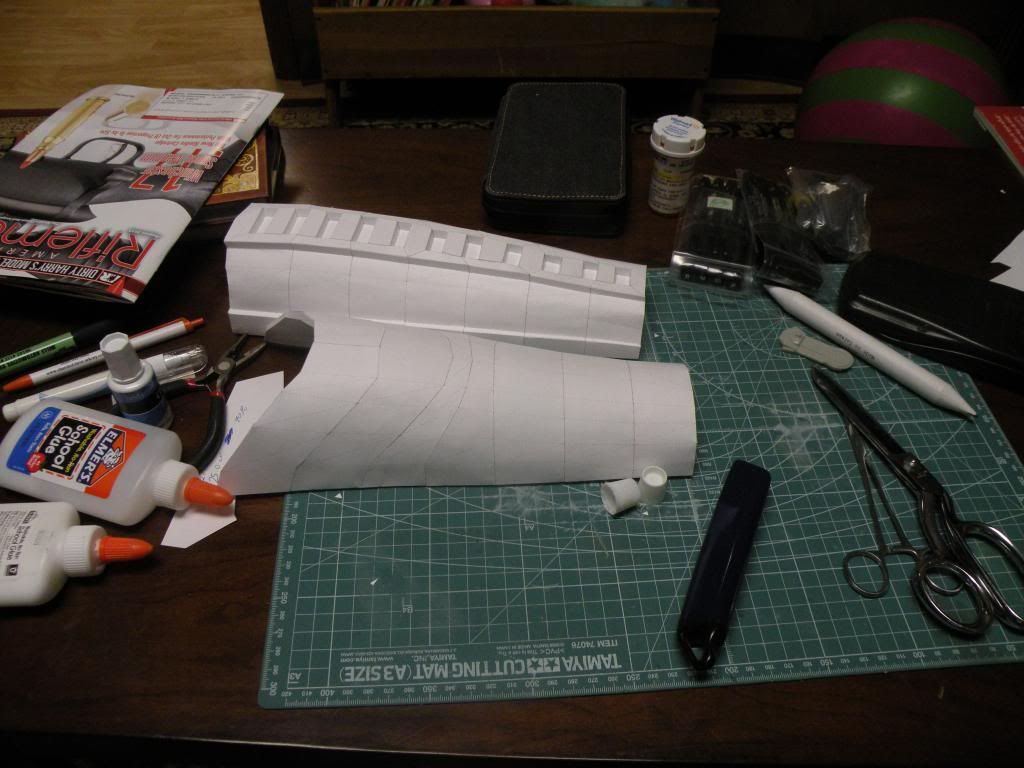 Unfortunately, the armor set I have on file is a bit too large: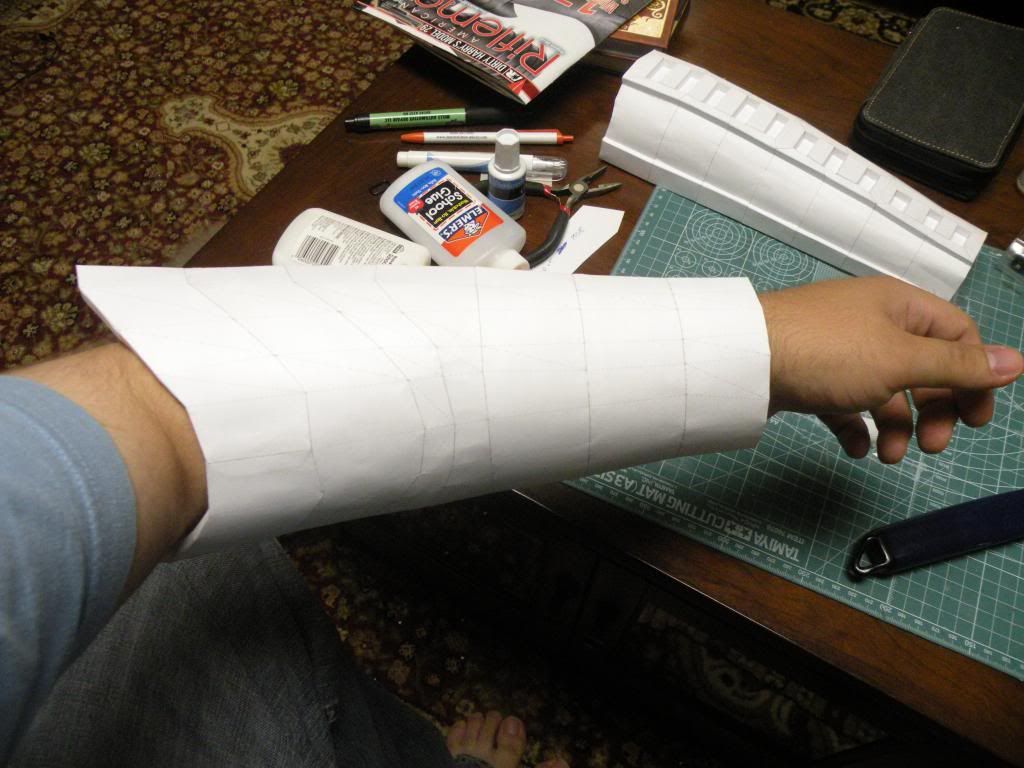 I went back into Pepakura and reduced the size by the appropriate amount (I love how Tamiya's cutting mats have metric rulers around the edges. It makes doing this sort of thing quite easy).
I plan on rebuilding those two pieces tonight, then finishing three more over the course of the next few days. I weigh every Saturday morning, so if I've lost another five in the next few days expect to see another piece added to the set.
And naturally I plan on Bondo-ing and fiberglass-ing the heck out of this suit of armor so it looks awesome when it's done. I'm going do that each time I complete a section of armor: the arms, the legs, the chest/back, the cod/butt, and the helmet. When that's done I plan on painting it with very durable paint. After I finish the armor I'll need to get in contact with some costumers and find out just what to use for the undersuit and the boots and gloves.
I also had a nifty idea for fastening the pieces together, at least the arms and legs. The edges of each armor section have a "shelf" around them that's a good 3/8" wide. I'm going to bury several super magnets in the armor (polarized to make sure I don't stick the wrong parts together), and put a velcro strap on the outside piece. That way, I can simply strap the armor segment in place tightly, then let the magnets hold it together. I'm pretty familiar with these kinds of magnets and they're very strong (a really tiny one
was able to do this
; yes, that's a giant Gunstar model), so I think this idea will work.
So anyway, stick with me on this one, guys. I am not only going to get a nifty set of Imperial Stormtrooper armor, but I'll be getting healthy in the process! Two worthy goals if I've ever heard of one!