Prometheus
(according to the comic Vzpoura mozků)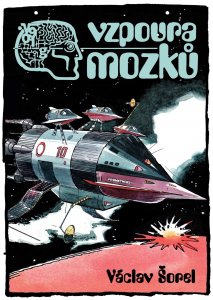 Scale: 1:?
Author: Jan Rukr (2003)
Publisher:
http://aliens.humlak.cz/aliens/aliens_papirove_modely_cz.htm
this is a bit of a return to youth, when probably the only real comics were published in ABC magazine. I quote from wikipedia:
Vzpoura mozků is a Czech comic published in the ABC magazine of young technicians and naturalists in the years 1977–1979. The screenwriter is Václav Šorel, the illustrator is František Kobík. The author Václav Šorel wrote the comic Rise of the Brain in the mid-1970s, half out of admiration for computers and half out of fear of where their development will go. The comic depicts the return of an interstellar expedition to Earth, where in the meantime a robot riot has taken place and people have to defend themselves.
A simpler version was released in ABC, I reached for a bit more complicated from J.Rukr, which can be freely downloaded. It's a pity that the parts are in jpeg format with a lower resolution, I printed it in A4 format. It went well, except for a few details I didn't edit it, I just added antennas and a removable back stand, where there are some pictures and talk about comics...
A few photos: