Sep 29, 2018
302
713
75
38
So, this is where it all started for myself and Dr Tetrode: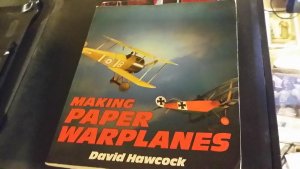 First published 30 years ago, Dr Tetrode picked it up a bookstore when our family was out and about. I quickly snatched it up and started hand tracing the designs. Most never got done... A handful like F-111 got built and even painted. I remember using Elmers glue and manila office file folders to make those, and quite a few messes... These would get me though many times between plastic model kits I'd get on Christmas or my birthday....
...Now that I've re-discovered this on my bookshelf, I might have to build and paint a few with the new knowledge I have obtained over the last two and a half decades...
...that and if Dr. Tetrode asks for it back, I'll have to copy some patterns out to build before sending it back! Wouldn't be the first book we shared so much we forgot who's it was originally!
I'll have to keep an eye out for Mr. Hawcock's other work (if any). This is a gem of pre-Internet papercraft crossing the pond and hitting the American bookshelves.