Co-Administrator
Staff member
Administrator
Moderator
Aug 1, 2009
10,026
9,625
228
A new blog has been created: Life papercraft. It is a fairly young blog (created in August 2015) but the models offered there are absolutely stunning. Among the wide range of Disney, Studio Ghibli and other characters is a series of absolutely stunning signs of the zodiac. I have no idea how the creator of these models does it, I don't know if these were ripped game models or if they are created from scratch. But I DO know that they look ABSOLUTELY FANTASTIC!!!
Five models have been completed:
More are to come. All models released after the Aquarius require Pepakura v4 to be opened.
These models caught my attention right from the start and this is why I have made the thread a "sticky".
There is a picture showing all the signs of the zodiac on some kind of throne with the Goddess Athena on top.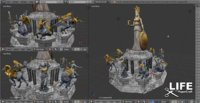 If this is a preview of the things to come I am very thrilled to see them!
Oh, and here is where you must go:
http://lifepapercraft.blogspot.de/
Have fun and enjoy!