Well here it is by request my Coal Mining project. I started this one last year & quit only to start the Saw Mill project. One of these days I will do something simple so I can finish before starting another project. This one is also scratch built. I like the New River Mine from Walthers but felt it was too common. I took some ideas from this & some others & made some patterns then transfered to foam core poster board. I covered it with styrene corrugated panels. I plan on building this one as a module too & later adding it to the layout. I want to build some camp houses & a company store before I start with the scenery to give me a better idea on how much room I need. I will do the same as the Mill project just keep adding to this thread as part of the Coal Mine project. I have a building I want to kit bash for the company store. There is an interesting story about the name of this but I will share that at the end of the pics.
Again I'm sorry for the deck rail way of viewing my posts. I placed some coal cars & an engine in here to try to make it look a little better.
All the wood you see is from my supply of scaled cut poplar & stained.
The rails & ladders are from Central.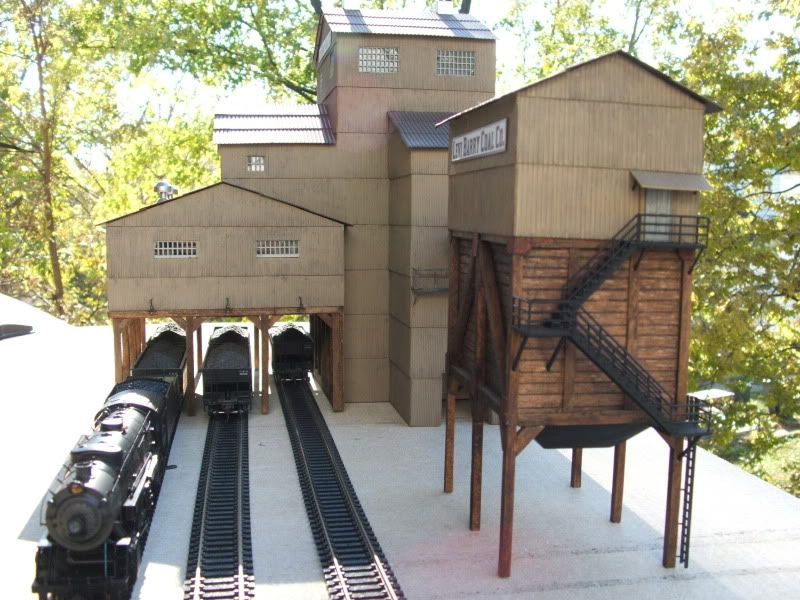 Those roof vents in case you missed the other post are made from the black tapered rubber faucet washers.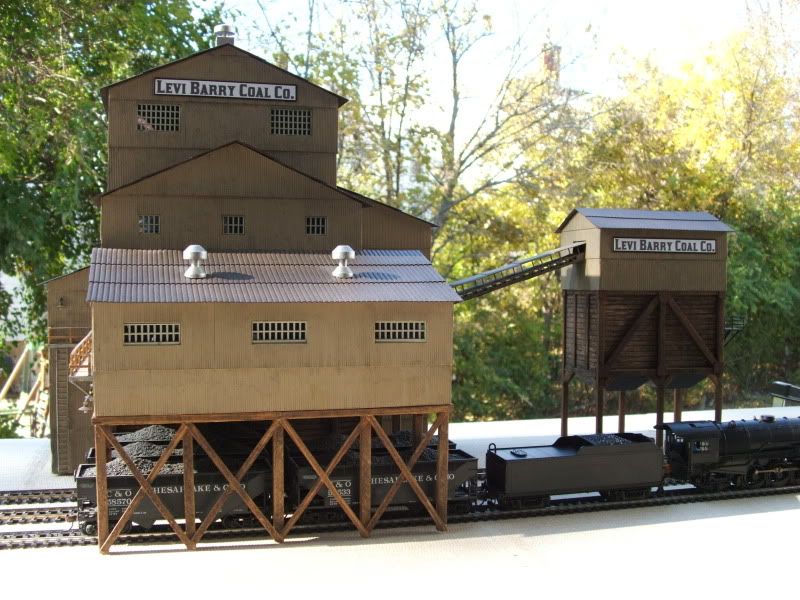 All my family are from Eastern Ky,Tenn,& West Virginia. My family moved when I was a baby to the North for that better life as many did back then to escape the Coal Mines. My Dad only worked a little in the Mines but my Grand Pa & many Uncles were killed in the Mines. My Dad always had the name LB just initials, he would tell people he was borned on wash day & they never had time to name him. The BIG secret that my Dad had for many years leaked out when my wife did a geniology study of our familys. Yep you guessed it, she found his birth & Military records that had him listed as Levi Barry. All the family enjoyed this so since a lot of the mines were named after people & since I liked my Dad's name I decided to use it for my Mine. Coal Mining was a very hard way of life. My Mom told me when my Grand Pa was found dead in the mines he only had 70 cents to his name & that was in Script. I am very proud to be part of this heritage so as we all do we capture those things that are dear to our hearts & save them on our Railroads. I hope you enjoy this because there will be a lot more to come. Thank you as always for viewing & your comments & questions are very welcomed.
__________________