Co-Administrator
Administrator
Moderator
Aug 1, 2009
8,098
6,317
183
Hello again!
The cold weather is still affecting my nose and throat which prevents me from completing the builds I have begun. So I am continuing on the CG modeling front and advance a project which has been in the works for almost half a year. To accomplish this I have taken my "conscience" Rhaven Blaack on board again. And together we give you
The Advanced Viper Development Project,
or in short,
Launch when ready!
This thread is the immediate sister thread to our "Advanced Thunderfighter Development Project" which you can find here:
http://www.zealot.com/forum/showthread.php?t=169684
As you might have already guessed it deals with all the different Viper models which have not been turned into paper yet, including an all-new never-before-seen TOS Mk. I. We will give you the Mk. VI from the defunct DeSanto / Singer Galactica project, the Antique Viper from the TOS episode "The Long Patrol" and at least one of the Ralph McQuarrie concept Vipers.
Each of them will feature a cockpit interior and an optional landing gear.
Since the original Viper prototype has more in common with the Thunderfighter you will find any updates on this plane in the Thunderfighter thread mentioned above. Don't worry, the TF development and the other threads I have begun (Crichton, Turbocycle, Hangar Bay, Visitor rifle etc.) are not dead and will be continued soon.
And here are some screenshots of the current state of the new CG models. The texture of the Mk. IV is temporary and will be replaced with a more authentic one.
Stay tuned!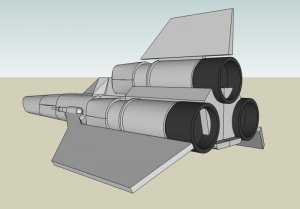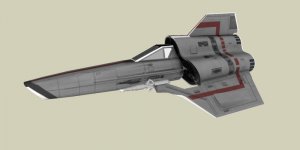 Last edited: