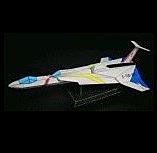 自作のペーパークラフト型紙を公開しています。 This site exhibits the handmade papermodel Pattern.
papertoybox.hateblo.jp
I have not visited this site 空想科学的紙工作(Science fiction paperwork) for some time now, great to see some new models. Hatena makes some beautiful easy to build Ultraman + other models, worth taking a look.
The download link is the second on the left column.
"How to" is the third.