Co-Administrator
Staff member
Administrator
Moderator
Aug 1, 2009
8,547
6,873
183
GALACTICA 6551 :


8. The Enemy Within


_____________________________________________________


by Marcell von dem Berge

(© 15.03.1999 / revision 7/2017)


_____________________________________________________



Based on the classic television series BATTLESTAR GALACTICA created by Glen A. Larson
and on characters created by Glen A. Larson.
Battlestar Galactica © ® & ™ Universal City Studios.
This script is free. It is a non-profit fan project and for personal use only.
No infringement intended.
No commercial use.


_____________________________________________________​
JINGLE: UBC News. The latest events in the solar system.
KHAN: Hello, Ladies and Gentlemen. Welcome to UBC News. The day of the decision is near. Tomorrow at 0900 Moscow Standard Time the UNE Council chaired by the President of the Earth Government, James Allen Holbrooke, will decide on the future of the Styx. The meeting takes place at the conference room of Sigma Station under the strictest safety precautions. The negotiations are overshadowed by a remark Commander Adama from Galactica made before the Council of Ministers yesterday. He bluntly expressed his distrust of the Styx and demanded evidence for their story because he questioned their intentions.
LEITER: I am deeply shocked by the fact that a member of the Council is accusing the Styx to collaborate with the enemy.
KHAN: So these suspicions are invalid?
LEITER: Completely. Ladies & Gentlemen, please let me say this: We're all humans and we're all on the same side. The side of life. We are a hunted people and fight for one goal: the survival of the human race. Commander Adama makes it very clear that if we sow the seeds of discord among us and those who seek refuge exactly like the men, women and children of the Galactic fleet once did, we will never reach that goal. Only together do we have a chance. We need Earth and Earth needs us. The survival of the human species is at stake. We should not play with marked cards.
KHAN: Captain Aaron Leiter of the Styx. Commander Adama's response raises new questions: Why does he demand to deny the Styx what we have granted to the Galactic Fleet, namely asylum, even though we knew much less about
them
on arrival than we know about the Styx? Does Commander Adama fear too lose his power if the Styx send a representative to the Council of Ministers? Was the initial tolerance only a façade to hide a radical spirit that does not differ from that of the Isolationists? Liz Khan, UBC News.
_____________________________________________________



There are those, who believe…


_____________________________________________________


SPECIAL GUEST STARS

Lloyd Bochner as Leiter
Lance Henriksen as Frank Bishop
Sonya Cassidy as Gloria Rilkes
Rekha Sharma as Liz Khan
Michael Trucco as Tony Smallwood


_____________________________________________________​
Galactica. Adama's quarters.
TIGH: Your performance has enormously hurt our reputation. The population doesn't know what to think about it.
ADAMA: I'm absolutely sure, Colonel, there's something shady about it. If the Styx are really hunted by the Cylons, why has the UNE never heard of them?
APOLLO: There was a Great War centuries ago. Maybe the Styx have been living isolated for a long time and haven't contacted anyone. It was this life-threatening situation that prompted them to reveal themselves.
ADAMA: They are surprisingly well armed for such a vulnerable people. And miraculously, they appear just in time. I wouldn't be surprised if everything is a legend.
CYNTHIA: I agree, Commander.
APOLLO: It's also possible that their story is true. So far nobody has been able to disprove it.
ADAMA: Yes, because the Council has agreed to Leiter's proposal and stopped any recon patrol till the situation behind the shield has eased.
TIGH: The Cylons are in a stand-by position. They destroy every ship passing the shield. We're completely isolated.
APOLLO: They found us and want to starve us. Earth requires raw materials from other planets. The effects of a lasting siege could be tremendous. No more interstellar travel, no commerce, no scientific expeditions.
ADAMA: They know that Earth is unable to sustain this blockade for long without more allies. With their presence they force the Council of Ministers to make a quick decision.
APOLLO: Father, it's too risky to make vague speculations right now. The future of a whole people is at stake. The risk is too big without proof ..!
ADAMA: That's exactly what you said to me at Caprica, Apollo ... The Leiter of
our
universe escaped from prison, took the Council hostage, kidnapped Galactica and wanted to dump us on a Cylon planet.
CYNTHIA: You just named it, Commander. This is
another
universe.
This
Leiter doesn't necessarily have to be the same monster.
ADAMA: Leiter is one of those characters that never change. He
is
a threat. To all of us.
CYNTHIA: So what shall we do? Send them back?
ADAMA: The safest alternative.
CYNTHIA: And let the Cylons destroy them?
ADAMA: We'll see. Colonel, arrange an appointment with President Holbrooke. I won't let this world go down like ours.
TIGH: What are you planning to do?
ADAMA: I'm trying to make him postpone the vote. That could give us the time we need to find evidence.
APOLLO: Father, don't you think you're obsessing about it?
ADAMA: Boy, I don't want to end up as the man who knew about everything but didn't do anything. In this situation passivity is as severe a crime as murder.
Life Center.
CASSIE (nursing a patient): You better be more careful next time. Triad can be dangerous.
Patient leaves, Curtis comes. A man in his mid-30s with blonde curly hair.
CURTIS: Hello!
CASSIE: Oh, hello! You are the cut of this morning.
CURTIS: That's right. (presents a flower bouquet to her) A small "thank you" for having to swing into action so early.
CASSIE: That wouldn't have been necessary ... They are beautiful. Thank you very much!
CURTIS: I'm glad you like them. I'd be even happier if you accept to have lunch with me today.
CASSIE: That's really nice of you but I don't know if ...
CURTIS: I had a table reserved for the Star Lounge at 11:30. Don't let me wait ..! (leaves)
SALIK: What was
that
?
CASSIE: A
cut
.
SALIK: Sure? It looked more like a
ballistic trauma
. Arrow into the heart ..!
Sigma station.
President Holbrooke's quarters.
HOLBROOKE: Commander, I really appreciate your concerns. The UNE owes a lot to you, not only regarding the Cylons. I'm even thinking seriously about having a battlestar built using yours as a model. But the Council wants to decide quickly. The public pressure is too high. Your statement has pushed that, too.
ADAMA: I'm not asking you to dismiss the Styx. I only ask you to postpone the vote to give us some time to check their story carefully. A rash decision could be lethal.
HOLBROOKE: With all due respect to your experiences but the events have developed differently in this universe. Actually,
you
don't exist here at all. I assure you, I'll consider your concerns when I'm making my decision.
ADAMA: ... I hope you decide wisely. (leaves)
GUARD (at the door, watching Adama leave): Looks like it didn't go too well…
Sigma panorama hall.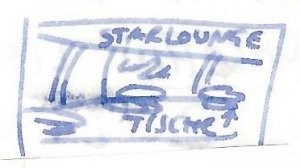 SHEBA: You accepted even though you don't even know his name?
CASSIE (wearing her dress from "Saga of a Star World"): He came to the Life Center this morning with a cut. I treated him, he invited me to dinner. He left me no choice. If you see him you'll understand why.
SHEBA: Do you think that's the right decision? Did you think about how Starbuck might react when he finds out?
CASSIE: Starbuck is only interested in roulette. He's
obsessed
by it.
SHEBA:
Still
? This is bordering on gambling addiction. Where does he get the money from?
CASSIE: I've been trying to talk to him, but he's ignoring my calls. I'm getting really worried but he doesn't want to listen to me - and he doesn't want help.
SHEBA: He spends every available centon at the casino. The interruption of the patrol flights has increased this. He doesn't even listen to Apollo.
CASSIE: I'm sure he'll have his head on straight again once he learns that he can't carry on like this. He's grown up and has to make his own decisions. And until he realizes that I'll meet the people I want to meet.
SHEBA: Maybe you should tell that to Starbuck ...
CASSIE: ... Here he comes!
SHEBA: Oh boy, I'd love to have a slice from
this
"cut" ..!
CASSIE: Too late, he's
mine
! And now switch on turbo and beat it! (Sheba leaves)
CURTIS: A new star in the sky!
CASSIE I managed to get the rest of the day off.
CURTIS: That makes me very happy! (sits down, Cassie & Curtis are photographed)
Casino.
STARBUCK: I can feel it, I'm on the verge of a new stroke of luck! (wins) Ha! What did I say?!
GROUPIER: Please make your bets!
CASINO AID (at the left of Starbuck): Sir, excuse me, but the manager would like to speak with you.
STARBUCK: Tell him, I'll check in later. I can't leave because of this new stroke of luck ...
CASINO AID: It's about your
credit
. He wishes to see you
immediately
.
STARBUCK: Do you want to kick me out?
CASINO AID: No. But my colleague here does. (points at a beefy guy next to Starbuck)
STARBUCK: Why didn't you say that right away? (leaves) I hope it's nothing serious …
Last edited: