Co-Administrator
Staff member
Administrator
Moderator
Aug 1, 2009
8,547
6,873
183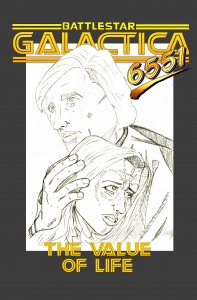 GALACTICA 6551 :

3. The Value of Life
_____________________________________________________
by Marcell von dem Berge
(© 24.12.1998 / revision 7/2017)
_____________________________________________________
Based on the classic television series BATTLESTAR GALACTICA created by Glen A. Larson
and on characters created by Glen A. Larson.
Battlestar Galactica © ® & ™ Universal City Studios.
This script is free. It is a non-profit fan project and for personal use only.
No infringement intended.
No commercial use.
_____________________________________________________​
A planet in chaos: The peaceful world Harkaria is attacked by the Cylons. Cylon troops have landed, they are shooting at people. The night is illumined by burning buildings and debris. It is raining. A man is crawling through the mud toward the camera. He has lost his right lower leg, you see the bone protruding from the bloody wound. A Centurion approaches him from behind, targets the man's head and fires. You see the body collapsing.
Inside a house. A man is barricading the windows and doors.
MOTHER: Come on, hurry! Hurry! Whatever happens, you'll stay under the sideboard! Don't be afraid, we will protect you ..!
MIRA: Mom ..! (loses her teddy bear)
FATHER: (charges rifle, looks through the barricaded window) Come on, you damn ...
An explosion rips the door out of its hinges. The man is seriously injured. He is lying on the ground.

Centurions enter, shoot the woman, look at the man's neck, notice that he still has a pulse and shoot him, too. Mira is frightened and shocked, a Centurion steps on the teddy,

looks down and recognizes Mira's footprints using an infrared sensor. The Cylon is about to pull the sideboard out of the way when a squadron of Vipers attack and open fire at the Cylon troops.
CYLON2 (in door frame): Colonial Vipers are attacking the patrols!
CYLON1 (turns to Cylon2): All Centurions report to the Raiders! Destroy the Colonials!
The Cylons leave the house. Mira whimpers, hears the sounds of the fights and explosions.
BOOMER: Okay, the baseship will reach the landing area in fifteen centons. We have less than ten centons to rescue as many survivors as possible! Hurry up!
SHEBA (discovers Mira with infrared scanner): Here's another one! Come on, we must get away from here quickly! (Mira hesitates) ... It's okay, we want to help you ... Give me your hand!
MIRA (takes up her teddy): ... Mommy ... Daddy ...
SHEBA: We can't help them anymore… Come!
Sheba takes Mira out of the house. Mira sees the battlefield.
BOOMER: Hurry! Hurry! The reinforcements will be here any micron!
Sheba and Mira enter an evac shuttle, the door closes. The screen turns black.
_____________________________________________________
There are those, who believe…
_____________________________________________________
SPECIAL GUEST STARS
Leelee Sobieski as Mira
Corey Johnson as Theolon
_____________________________________________________
DAY 1
​
ADAMA (Log): Searching for the 13th tribe of Man, the Colonial fleet approached an inhabited planet which had become subject of a massive Cylon attack. We intervened and saved many survivors, but unfortunately we had to leave the majority of the population to their fate. I never thought I would have to experience again the suffering and the misery of such a catastrophe. Now we are refugees helping refugees. What a strange twist of fate.
Galactica bridge.
TIGH: Recent estimates say almost 144,000 Harkarians saved. 21,000 more are heading for the fleet in smaller freighters. They were travelling in interstellar space when the attack occurred and received the emergency call from the colony. They will reach the fleet in about two days. Life Center reports about 2,500 injured, 200 of them severely. The destruction was gigantic.
ADAMA: Thousands ... of millions ...
OMEGA: We're back on the old course, Commander.
ADAMA: Thank you, Omega. Tigh, we have to bring order to the chaos as soon as possible in order not to endanger the cohesion in the fleet.
TIGH: Of course. Captain Apollo has already made a supply plan.
ADAMA: Good. Keep me informed. I'm attending a special Quorum meeting to discuss the next steps.
Galactica hangar bay. Many refugees are crowded together. Apollo, Starbuck and Sheba. Boomer and Nisa (brunette, white, Caucasian) are standing a bit apart.
APOLLO: Boxey wanted to help, but I told him it was too dangerous. We still don't know what kind of people we are dealing with.
SHEBA: Where is he now?
APOLLO: On the school ship. He's safe for the time being. As soon as the situation eases, I'll take him back to Galactica. Okay, one step at a time. Here, everyone gets this life kit. It contains everything that is needed: emergency rations, first aid items, contact details. Don't worry, replenishment is under way.
STARBUCK: (pointing towards Boomer) Hey, look! ... Is that what I think it is?
SHEBA: Boomer has a girl ..?
APOLLO: That was about time ...
STARBUCK: Do you still need me? I'd like to do some "digging". See you later, folks. (walks toward Boomer)
NISA: Excuse me. I need to go back to work. See you later. (leaves)
BOOMER: Yes.
STARBUCK: (coming) Boomer! Don't you wanna present your new friend to us?
BOOMER: Maybe later. Her name is Nisa. She comes from the Rothanna.
STARBUCK: Lovely! Is it something serious?
BOOMER: I think so.
STARBUCK: Well then! (grins) Here, let's distribute these things. (gives Boomer a few kits) One for each of our guests.
Mira bumps into Starbuck and steals a kit.
BOOMER (holding him back): She seems to be quite in a hurry.
STARBUCK: Hey! Wait a centon! Come back!
Starbuck follows her, sees Mira sitting in a corner, gnawing at a piece of bread.
STARBUCK: Hey, why did you do that? There's enough for everyone, you don't need to snatch it out of my hand!
Mira looks at him grimly, Starbuck realizes that she is traumatized.
STARBUCK: ... That place doesn't look very comfortable. Don't you think it'd be better to sit on one of the plank beds like the others?
MIRA: Leave me alone!
STARBUCK: I'm afraid that's not that easy. My mission is to provide you with a starter kit and find out if there're any problems. And I think I've just discovered a pretty
big
one.
MIRA: ...
STARBUCK: Well, now you've gotten yourself into trouble. I love to solve problems. The more difficult the better. As long as I don't know what's going on with you, I won't leave your side. (sits down by her) ... My name is Starbuck. What's your name?
MIRA: Save it! I don't need anyone. And certainly not someone like
you
.
STARBUCK: Listen, I mean you no harm. I just want to help ... I can imagine what you're going through.
MIRA (jumps up): Nobody can!
STARBUCK: Hey, you're not the only one who has lost everything. The Cylons have destroyed my world, too.
MIRA: Did they kill your parents, too ?! Before your eyes? While you were hiding under a sideboard ?!
STARBUCK:
Yes
! (stands up) ... I have spent half my life on the orphan ship. I know what it means to be without a family.
MIRA (stops): ... What ... what did you do?
STARBUCK: I tried to make friends as early as possible. Sure, they cannot replace your parents, but they can be like a family for you ... What do you think, shall we give it a try? (reaches out for her)
MIRA (hesitates, holds the kit and the teddy): ... I'm Mira ... Mira Brehn ...
STARBUCK: Welcome to the fleet, Mira ..!
Baseship above Harkaria.

IMPERIOUS LEADER: Status!
CENTURION: The planet is under our control. All human remains were destroyed as ordered. There was an incident. Colonial troops attacked the landing party and captured survivors.
IMPERIOUS LEADER: Have you localized the Colonial fleet?
CENTURION: No. She has not entered the system. Only the battlestar jumped in and out for the fight. Unfortunately we were unable to determine the jump vectors.
IMPERIOUS LEADER: Keep scanning the area. If you find something, resume the pursuit immediately!
CENTURION: By your command, Imperious Leader!
Last edited: