Apr 15, 2004
779
1,714
83
59
Time to get back to work (if time permits...
). Please excuse me if, for a while, I'll abandon beloved cardmodels for a totally new (for me) kind of build.
Last year, for my birthday, my sons gave me a
great
present (they know how to make me happy
) a construction kit from spanish
Aedes Ars
, a beautiful castle all made by little pieces of something that looks like stone (but I think is much more likely some kind of resin). The subject is an incredible building.
Castel del Monte
is a fortress built by emperor Frederick II during 13th century in southern Italy.
I was there some years ago and - can assure you - that place is absolutely fantastic, nothing similar exist in all medieval architecture. Really a magical place.
The model itself is something I never tried before. I'll have to experiment totally new build techniques. The "bricks" will be glued to cardboard templates so, eventually, what I'll have at the end will be a cardmodel covered with stone. I'm not totally off topic after all
.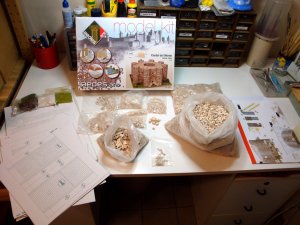 This is what the kit contains: some heavy cardboard templates (unfortunately they are pre-cut and some of the printed line is not perfectly aligned with the cuts so I'll have to decide if I should follow the cut lines or the printed ones) two instructions posters (not shining for clarity) and an HUGE amount of little bricks in several different shapes and sizes, plus some special shaped parts (for windows, columns and other architectural details). There are also three bags with diorama stuff to simulate grass, bushes and gravel.
I studied carefully the photos I've taken on site, a couple of books I have on the castle and some of the great amount of documentation found on the web and now I'm considering some enhancements and corrections to the model to make it as realistic as I can.
The first part I want to do is to scan the cardboard templates to correct the shape of gates and windows. Then I'll print the corrected templates and I'll start building on them.
Some more studying for now. I'll be back with updates as soon as I start actual building.
Last edited: