Researcher of obscure between war vehicles...
Staff member
Moderator
Jan 28, 2013
1,358
1,589
96
Got started on this as a break from doing a lot of strictly digital work, some smart builder out there will figure out what it is soon-enough, but for now I thought I would just concentrate on the build, without spoiling the surprise. After my last build one would figure ( even me) that I would pick something a bit easy for a break, perhaps even one of my own designs I have waiting that are calling to me, even now,
nope
! Here we go..
Engine block, fairly straightforward.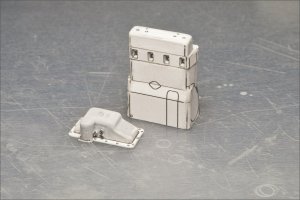 and then the parts start getting smaller and smaller...etc etc etc
I will only do pics of stages along the build as this has WAY to many parts..as you can start to see, by the spark-plug ports!
started to run into instruction problems here as to how do things glue up, to the inside or out. I would prefer that things glue over the supports, but in this case all glue-ups are configured to glue to the inside edges, and all wraps glue, edge to edge, instead of over a support or corner, and since there are soooo many, will just have to live with it!
Engine block with head test fit, and a primer coat on it..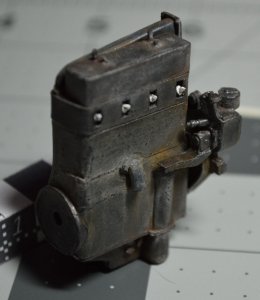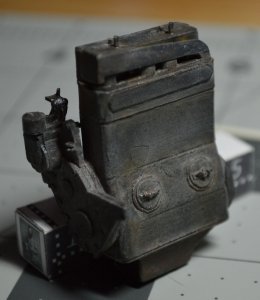 Plug ports more visible here, and yes there are spark-plugs 2.5mm x .43mm to be exact! Also you can begin to see what I have got myself into, those butterfly bolts are almost invisible when cutting, and they are good size compared to some !
Next have to get the exhaust manifold assembly..
Build Note: Cotton Swab with the paper core! works like a charm, dampen slightly and you can bend it, use a round plier, and if it starts to crush on the inside bend, flat plier the swab at a 90 to the bend and it will smooth it out again, use your burnisher to smooth things out a bit of sanding, a coat of acrylic varnish , tada!
and partially completed sitting on engine block for test fit!
Please Note...it is only 4.5mm tall!
and just to confuse those curious ones, and youngsters out there... here is part of the frame I built up while waiting for the engine to dry, and to get feeling back into my hands from working on the engine!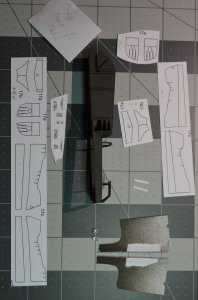 (BTW the axle is one of those paper sticks you get from make your own candy/sucker chocolate things, will try to find the name/brand for next time. They are 100mm long and 4mm diameter). They have a hole from being wrapped down the center, that fits a 1.3 mm wire perfectly! Aluminium Electric Fence wire is perfect fit!)
Till Next Time..
PS .. any specific questions on any part of the actual build, as always! JUST ASK!
Last edited: