Dec 15, 2008
2,619
349
78
Started this a very long time ago , but my trains are on hold while I establish my retirement residences, One of them is on a bay off of Kentucky Lake, the largest man made lake east of the Mississippi.
My most recent work has been scratcbuilding the wheels out of brass and copper, and the wheel houses out of brass (so far at least). They are going to need a lot of decoration.
The deck house so far is mocked up out of cardboard. It will house the servos, so I want to get those figured out before I build the deck house. I have no idea what I'm doing with RC . My only other effort with RC was a rowing mechanism for a pseudo Roman bireme. That was unsuccessful, as the mechanism, electronics, and battery were too heavy , and put the oar ports too close to the waterline.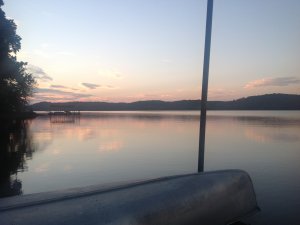 If successful , will be sailing off this dock. The 17 foot grumound canoe is the recovery vehicle.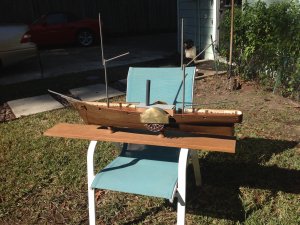 Photographed in Texas sunlight!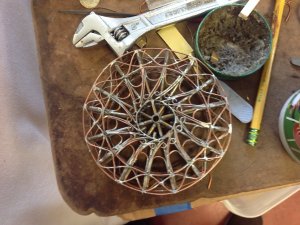 The inside of the d
Starboard wheel, the outside will have sone fancies inside the center ring , mostly futile as the wheelhouse covers it up, but I know it is there.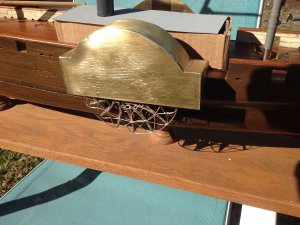 here is the wheel house. I may solver on brass or copper decorations later , or laminate wood that was either carved or burnt. I'll figure that out later. The cardboard deckhouse and plastic funnel are stand ins.
It has a removable sailing keel , that bolts on where the
Display stand does, and there is also an extension for the rudder for sailing as well.
Hope to finish the strarbord wheel and wheel house, work on the RC , and start the first of several sets of sails . Rigging will be tricky, as I hope to keep the mists removable for transport.
The ships boats are likewise removeable with the davets made in two parts.