Hello, there!
I have been gone from this site for about half a year due to work, work, work!
Now I am very happy to be back again!
Time for a new build! The shiny cap from BTTF II worn by Marty McFly in 2015!
I found images of the cap from all angels and just used the duck cap papercraft found via Google (I have no source on who made it) and then adjusted the pieces in size and also the number of pieces.
A layer of clear coat made the pieces somewhat shiny as well!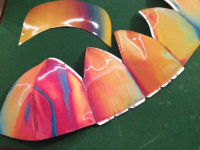 Last edited: