Sep 29, 2018
307
720
75
38
Needed a change of pace today, since I'm on the painting phase of the second BMP, yet had a hankering for building something different, I figured why not build a couple of dreadnoughts?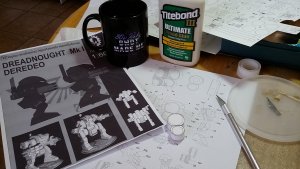 You can see the body core built already for one of the Dreadnoughts. These are classics from Rouge Trader era, so they can be either the Dreadnought or Imperial Robot (if my recollection of the Compendium and/or Book of the Astronomicon is correct).
Lots of circles! I can see Silveroxide lamininating like crazy if he ever builds these!
I'm likely to place these on one of my 3D print bases instead of the paper one.
Last edited: