Sep 29, 2018
464
1,229
75
40
Greetings Zealots!
I'm took a break from building card stock based armor to wash up some resin 28mm miniatures I ordered from a great American miniature maker, Mad Robot Miniatures. Mad Robot specializes in giving you fully configurable modular fireteams (5 troopers), squads (10 troopers), command squads (about 5 troopers, with specialists like the guidon bearer, commander, radioman, etc), and heavy weapons teams. Anyone familiar with one of the most popular science fiction table top games (in a gothic grim dark universe...) will instantly recognize the source of organization...
I picked a team that has a more near future look about them. Mad Robot is obviously a garage kit manufacturer. All the parts are resin cast by a small shop (one guy, in a garage...), and will require some extensive clean up. Well, that shouldn't shock anyone who deals with resin kits now will it?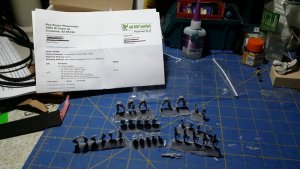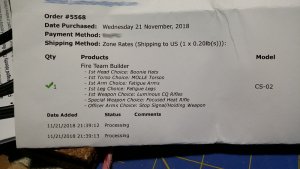 On my invoice, you can see my selections from their catalog. MOLLE vest torsos (MOLLE [MOdular Lightweight Load bearing Equipment
https://en.wikipedia.org/wiki/MOLLE
] being the current NATO load bearing equipment that allows for pouches to be mounted to a vest in a modular manner).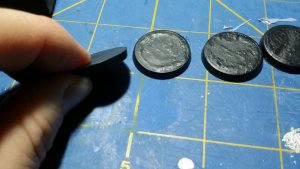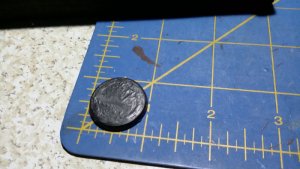 Mad Robot provides 25mm bases, they are solid cast black resin, and very much identical to the current industry standard bases. Not sure how I like the solid cast though... Perhaps I've been conditioned?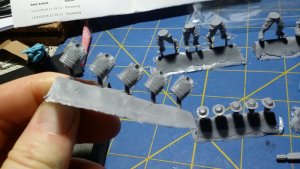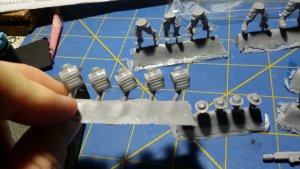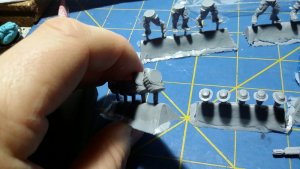 I like the MOLLE vest torsos. They fit my tactical aesthetics very well (after having worn MOLLE myself in bad places and coming out the other end of the deployment in tact...). Lots of room for using epoxy to sculpt up some pouches! Nope, not buying any.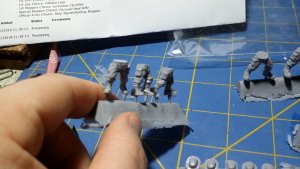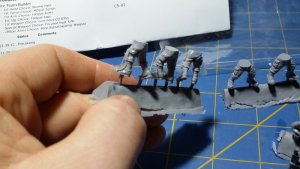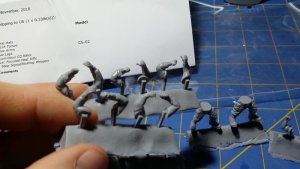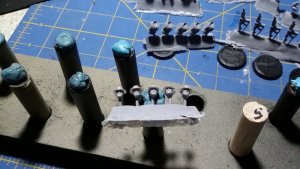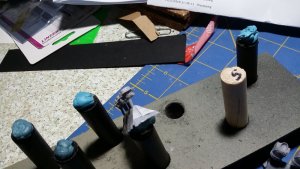 I went with good ol' fashioned fatique arms and legs and topped off the fellas by having them wear boonie covers. To me, that matches the Flak Armor protection better than the 'standard' soldiers of the guard in the official game anyway (who are wearing something more armored, and should be considered in carapace). Clearly, I've got some light fighters on my hands. A team of recon soldiers, scouts.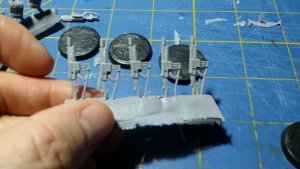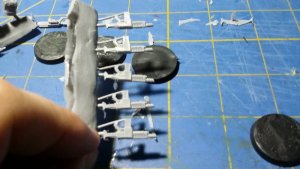 Which brings me to the primary weapon of choice, Luminous CQ Rifles! Clearly, they are the SF equivelent to the trusty M-4 carbine (
https://en.wikipedia.org/wiki/M4_carbine
) I used to carry. Again, there will likely be some scratch building for at least one under barrel grenade launcher, and maybe some CQB red dot holographic sights (Aimpoint anyone?), and the usual recon/scout toys like IR pointers (and since it is SF, in the right game system, designation equipment for terminal guidance of aerial/space munitions).
So far, I don't think I'd hesitate to order from Mad Robot again! American miniature makers are few and far between compared to their European counterparts, and it is always refreshing to find them here and not wonder about International shipping! That said, I've got zero problems with dealing with that issue if I can get the miniature I want a good price... Mad Robot got me the best of both worlds with this build, domestic shipping, and decent price.
Last edited: