Researcher of obscure between war vehicles...
Staff member
Moderator
Jan 28, 2013
1,270
1,516
96
Not the cheapest tool in the arsenal..but they do offer a package deal, that was what my wife gave me this last Christmas. At first I was skeptical, having looked into laser cutters and every type of cutter out there ( was real tired of cutting repetitive parts like tank tracks!) There are some great products with blades on the market that will cut up to 2mm board as small as a tank tread, not to mention the laser cutters available..but the cost is very high..and unless your going to turn it into a business I could not see the expense, then there is the problem of converting whatever you need to a cut file since you will not have access to the original vector in most cases ( there are though a LOT of times that the PDF can be opened in lets say Inkscape ((Free)) and converted to a usable format but that is a topic for another thread!) The cameo I kinda ignored as it had a sticky mat that you use to hold your paper, and I did not like the idea, since I live in the desert and dust is always everywhere!
So I first used it to cut some stuff for the wife, figuring she would get more use out of it then I would, but as I worked with it and learned more, and how to tweak things I tried it on my Scammell Pioneer SV2S tire treads, and it did
GREAT
took some doing, but saved a lot of work.
So I decided to see how far I could push it in that direction..if you have seen Renova's Kraz 255b it has some crazy tread pattern! I could never see cutting it all out by hand and having to repeat it 7 times out of 1 mm stock!! Ackkkk!!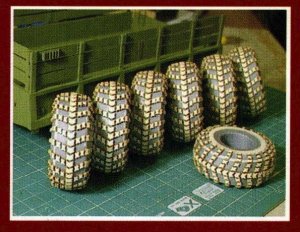 so I created a Cameo file for it..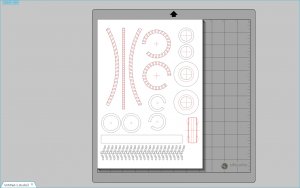 black is for the cut lines and red is just for placement...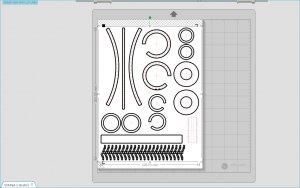 Marks in the corners are registration marks..
Crossing my fingers...sent to the Cameo...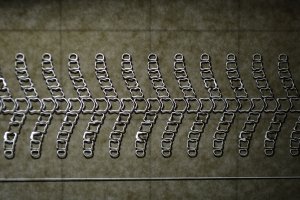 View of the finished cut held up to desk lamp...some of the pieces got moved out of alignment so they look messed up but all in all I am happy as can be!!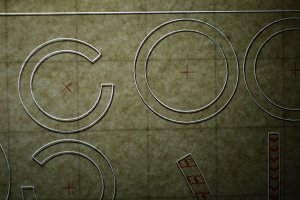 You can see that the cut does not line up with the print..but that was my fault, and a fault with my cheap printer and can be corrected easily! I will keep working on things and perhaps up-grade as the next level of software loads SVG files directly and uses layers...also I have been working on sending the file directly from Inkscape! Will keep all informed! If it will do 1mm bolt heads I will be ecstatic!!