Apr 15, 2004
790
1,765
83
60
I wasn't sure about where to post this thread. It isn't actually a modeling thread.
This is a story that demonstrates how our modeling skills, so much deprecated by our wives, sometimes are useful for purposes they couldn't never imagine!!!
First the story:
some weeks ago my wife returned home with only half of her garage door remote controller. The upper half of its plastic shell was lost somewhere in the outer world. No chance to find it again.
We bought another remote but the old one was perfectly functional, it only lacked part of the shell and the buttons. I didn't want to trash it. So the idea was to duplicate the existing parts from my own remote to replicate the lost one...
Resin casting is a useful technique - for us modelers - to replicate many identical parts from one master.
@Bill Nelson
gave us a very good example in
this thread
.
But you can also use it to double any complex shape if you figure out a way to extract your master from the silicon cast...
The only thing you have to avoid are passing holes because they can block your master inside the silicon. Putting a piece of adesive tape over any hole will result at the end in a thin resin foil that you can easily cut out from your casted piece.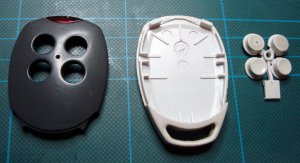 These are my original remote pieces.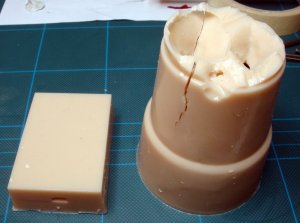 And there are the silicon casts obtained from them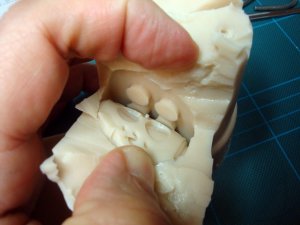 They contains an exact template of the shells...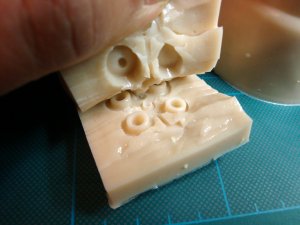 ...and of the buttons.
Last edited: