Dec 15, 2008
2,633
367
78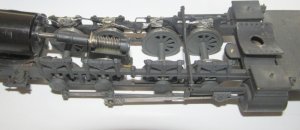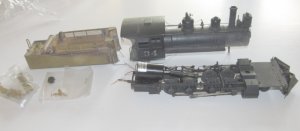 I was visiting an antique mall, and stopped to help one of the booth owners unload some stuff. In there he had a couple boxes of train stuff including some prewar Lionel cars, and some o gauge tinplate, as well as a lot of yard sale quality Ho stuff.
I was pulling things out of the boxes, telling him what they were, and approximate values, when at the bottom of the box I came across an On3 Balboa C-21 that was missing it's tender. He had told me what he had paid for three boxes of train stuff, and I offered him more for the locomotive than he paid for the whole shebang. I told him he might be able to get more on the internet, but the missing tender would get into any value. I knew no one in town plays with on3.
I posted on the Yahoo On3 list that I had the locomotive, and did any one have any ideas for the tender, and Lee, from Lee town models wrote me and said he had a brass shell for a On3 C-21 tender. I paid twice for the tender shell than I did for the locomotive, but this project is still very cheap for ON3 brass, as I have about $110. in it so far. the tender shell is PSC, and is very highly detailed
The locomotive has a big Sagami motor, that will run very slow. I have added electrical pick up on the insulated wheels, which is so much easier in On3 than in HOn3, as there is so much more room down there, since everything is twice as long, twice as wide, and twice as tall, there is eight times more space to work with.
The Balboa locomotives have somewhat sparse detailing and are not as high dollar as some of the other importers. The mechanism on this one is awesome, and it just crawls running on jumper cables; starting a about 7% throttle with just over 2rpm
I have added electrical pick up on the insulated side, so it ought to run off the rails now without a tender. I have to order some suitable trucks for the tender, try to find a good scale drawing, to allow me not to mess up the tender frame too much when I build it.
this thing is going to make me have build some Labelle woodworking company On3 coaches If I build two, I'd have more in the kits, couplers and trucks than I have in the locomotive. I have built some Labelle kits in HO and HOn3, and I have seen the on3 kits, and they are awesome.
Bill Nelson
Last edited: