Dec 15, 2008
2,650
392
78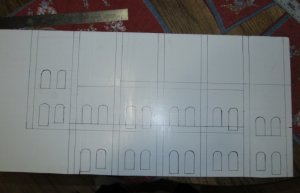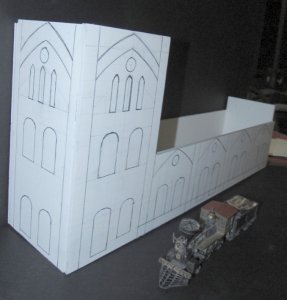 At the Clarksville Model railroad club in Clarksville Tn, the Guys have rebuilt the big yard removing all of the #4 switches, and going with #6s to make the yard more civilized. also in the interest of simplification they reduced the nearby double track main to single track. these changes opened up enough real estate to a two very long tracks for a through passenger terminal bu the main line. time for an impressive terminal!
the club thread is here.
http://www.zealot.com/forum/showthread.php?t=166134
but since I'm going to be doing some scratchbuilding, in what I'm hoping will be a stretch project, that will force me to learn stuff, I thought I would do a thread on the construction here.
The inspiration here is the Nashville TN Union station, a massive limestone pile, with a Tower. An actual model of this structure would be both too big for the scene, but would also be too much work. available Kits did not get me close enough to inspire a kitbash, so I went to the drawing board. well no I didn't.
I had some Ghost line foam core, white foam core with a grid of light blue lines to aid folks with graphic design on the foam core. I started laying out wall shapes directly on the foam core, sketched in window and door locations, and when it was penciled in and satisfactory I traced over my pencil lines in ink, and then cut up the wall sections, and assembled them to become a mock up. I like the look of the building, so I will begin building it right on the mock up, so the mock up will become the base for the finished building, saving me a step.
Usually when I scratch build something, I have some commercial window and door castings in mind that I build the design around, but this time I could not find anything that I was excited about, and this brings me to the stretch part of this project. instead of using commercial doors and windows, I am going to make masters for the windows doors and some other architectural features. so I will be trying to learn mold making resin casting for this project.
I'm going to try to cast the windows and doors and the arches above the windows and doors, and I will cut dense foam to make the rectangular shapes for the cut limestone for the building. there will be a narrower clock tower sticking father out from the center of the tower. the terminal will be above grade with the tracks and platforms underneath the station accessed by stairs leading to the interior of the building.
here we go! adventures in model railroading! oboy oboy oboy, It has been a while since I have made myself learn something
Last edited: