Mediocre Modeler in many forms
Jul 12, 2012
1,424
851
113
This is the 25mm scale figure of Minsk, the ranger, and Boo, his pet miniature giant space hamster.
The figure is a Wizards exclusive that comes with the Nozul's Marvelous Pigments basic paint set.
It comes unpainted, and is a little bent. Two coats of AV Vallejo acrylic polyurethane primer grey have been applied.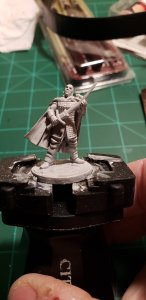 Now give it 24 hours for full cure and start the painting.