Jun 25, 2005
290
158
16
55
Cardmodel techniques work for repairing plastics. The tray on my printer broke. It's fragile plastic, maybe polystyrene. I bumped the tray and a tiny piece broke off. The tray wouldn't stay. It's difficult to even get a good look at the problem, and I can only fit the fingers of one hand into the space.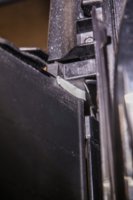 I tried repairing with tape and it didn't work. So I took snippet of paper and hot melt glue. The paper let me get the hot melt glue in place and hold it until it cooled.
That worked so well that I fixed the divider on my freezer in a similar manner. It had cracked. The clips are to keep the divider from sliding. They hold spaces made out of chip board and waterproof map paper. I share the freezer with a roommate, and we like our space evenly divided. Fussy I know. The divider would get pushed over. I'd try to push it back without removing her stuff, and that's how it broke.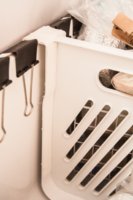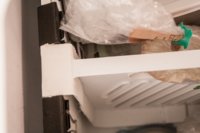 Tape would be messy. I doubted that epoxy would hold, and I didn't want the stink of epoxy resin in a place I store food. I cut a patch out of waterproof map paper and glued it with hot melt glue. No stink. It's held up for several months, so it looks like it's a success.