HObbyline was in business from 1953 to 1957. Their catalog for 1953 combined the HO lines of the parent company," John English" with it's start up company HObbyline. I do not have this catalog but some info from a posting in another forum. The posting person was Raydean.
[Edit 6/8/21] ; At this time I have 7 different catalogs of HObbyline trains. 1953, dealers catalog, dealers preview and retail catalogs for 1954, dealers preview and retail catalogs for 1955. dealers preview and retail catalogs for 1956. The green flyer for 1957 which I had but threw away as it is only for kit cars The buyer of them must finish. I try to only collect ready-to-run, factory-finished cars of this line. If I see a very nicely done kit car I acquire it if I can.
I am looking for in Ready to run the PRR boxcar, The Mobil, and the Shell tank cars I have as built-up kits and must be replaced with ready to run cars. I have all the gondolas, flats and hoppers made ready to run. In passenger cars, a PRR heavyweight coach, 3 B&O Heavyweight coaches which are uncataloged items, and a Lehigh Valley Heavyweight coach are needed. In streamline passenger cars I have them all. In Locomotives, an AT&SF FM H12-44 would complete my collection.
Kits I would like to find in good condition with nothing missing and decals in the right places and not damaged are C of G boxcar and T&P flat car. Outside of the B&O coaches getting what I have listed would complete my HObbyline collection of retail factory-finished cataloged cars. The kits are not factory assembled and finished so are not necessary to this collection.
I have a kit Western Pacific Feather boxcar in excellent condition also a Union Pacific Boxcar with slight damage to one side of the car, a small burn mark.
Edit 8-28-21. Here is why being able to edit and correct text on place a photo in with the text helps add to the vintage information found here.
This is my 1953 HObbyline catalog cover.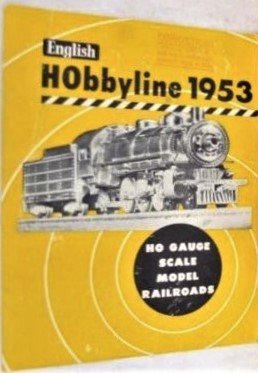 Last edited: