NOTE:
I just edited the title of this thread. I want to post pics of the toys I am playing with and don't want to clutter the forum with a bunch of little threads about this and that.
THIS thread will be about this and that.
I told you guys I can't keep on track. Detours are always more fun. There have been a couple of plastic crate things sitting on the back porch since last spring. They call to me every time I walk by them. Today they followed me into the house. One (today's victim) was a holder for plants for the garden last year. The other is a vegetable crate and will become something later on I'm sure.
Here is the plant crate after I started chopping on it.
Behind the crate is packing from some candles my wife bought. It is expanded polyethylene foam. I have been saving some of that stuff, trying to figure out what to use it for. I did find out that it cuts nicely with the hot wire, so it will be sure to show up in some builds.
And the start of whatever it is to become: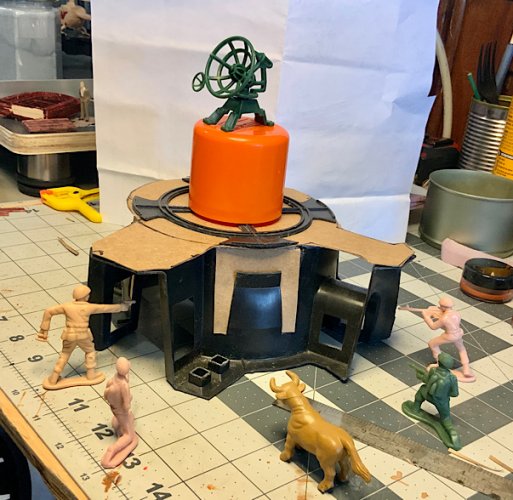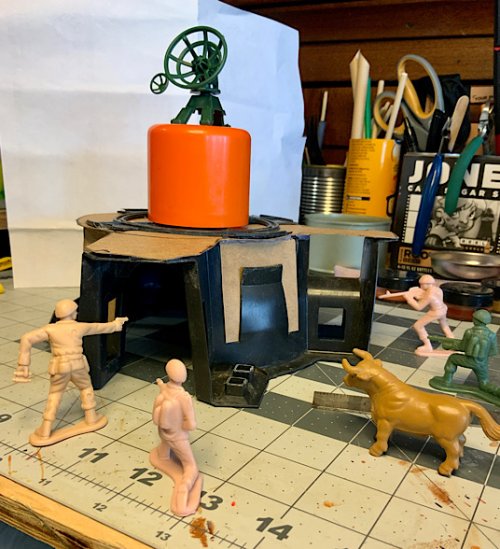 The orange thing and radar are just sitting up there for fun for now. I'm not sure where this one is going, but it is going…
My smart Alec wife said "they aren't shooting the bull". I said no, the bull is going inside to clean the vermin out of the place.
At this point, plastic, cardboard and hot glue are involved. I'm sure that wood and who knows what else will be used before this one is over.
Last edited: