Co-Administrator
Staff member
Administrator
Moderator
Aug 1, 2009
8,547
6,873
183
GALACTICA 6551 :

5. Evil Thoughts


_____________________________________________________


by Marcell von dem Berge

(© 03.01.1998 / revision #1 08.03.1999 / revision #2 7/2017)


_____________________________________________________



Based on the classic television series BATTLESTAR GALACTICA created by Glen A. Larson
and on characters created by Glen A. Larson.
Battlestar Galactica © ® & ™ Universal City Studios.
This script is free. It is a non-profit fan project and for personal use only.
No infringement intended.
No commercial use.


_____________________________________________________​
ADAMA (Log): After three yahren of uncertainty we have finally reached our destination: the planet Earth. The fleet was welcomed by the Central Command of the United Nations of Earth with open arms. The Quorum of the Twelve is negotiating the first alliance between us and the chairman of the UNE
(= United Nations of Earth)
; President William Holbrooke. After nearly 7,000 yahren the thirteen tribes of Man are finally reunited. I am glad to acknowledge that Earth is governed in a liberal-pluralistic manner and that our brethren have developed a highly advanced technology. Our sensors have not registered any signs of Cylon activity within 2,000 parsecs. This gives us the time to make tactical preparations and to recover from the hardships of our long journey. Dr Salik suggestedthat we gradually get used to the new atmosphere because our immune system could respond differently to terrestrial pathogens than expected. For this reason, I have temporarily limited the extensive shore leave I gave to our warriors to Sigma Station only.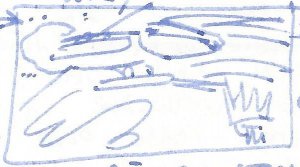 Earth station Sigma. The air lock opens, Galacticans enter.
STARBUCK: I almost gave up hope.
BOOMER: That we would find Earth?
STARBUCK: That we would get a shore leave. I thought we'd be stuck in that old tin can forever.
APOLLO: I never had any doubts about that.
BOXEY: Do you think there are any Daggits here?
APOLLO: Sure, Boxey. Muffit will definitely find many new friends here.
SHEBA: Look, here comes the welcoming committee ...
Reporters are coming, among them are Liz Khan and Tony Smallwood from UBC-News
(= United Broadcasting Company)
.
BOOMER: Now it's time to take a deep breath! ..!
STARBUCK: Is my hairstyle okay?
KHAN: This isUBC-News live from Sigma Station, presenting the first exclusive interview with the colonists from outer space. Ladies and Gentlemen, you are the first visitors from Galactica. What do you think about Sigma?
APOLLO: Well, she's ... pretty big.
ATHENA: I'm so relieved that we have made it.
JOLLY: Exactly. I'm wondering what would have happened if we hadn't come through ....
KHAN: Don't worry, you could have used a wider airlock over there at the cargo ramp then! (Jolly laughs)
TONY: You look like a very capable pilot.
STARBUCK: Oh, yes. I've always been one of the best.
TONY: What are you going to do first?
STARBUCK: Well, erh ... is there a casino here?
Bar.
WAITER: First time visitors get a free drink on Sigma. What may I bring you?
BOOMER: I heard beans were drunk here.
WAITER: Do you mean coffee or cocoa?
BOOMER: I don't know, I'll try both.
WAITER: Gladly. (to Cree) And what do
you
want?
CREE: I'd like to have a Rebunatic carburian.
WAITER: I'm sorry but we only serve drinks that we can spell.
CREE: Well then gimme a handful of beans, too.
Boomer is about to take a sip when Starbuck pulls him away from the counter.
BOOMER: Hey, what's up with you?
STARBUCK: Come with me! I'll have to show you something. You have to see that!
BOOMER: But - my beans are getting cold ..!
Apollo & Boxey are standing before a panoramic window lookingdown to Earth.
APOLLO: So, what do you think?
BOXEY: She's fairly blue. But pretty.
Muffit barks.
APOLLO: I think Muffit shares your opinion. (sees Starbuck and Boomer) Starbuck! Do you like it here?
STARBUCK: I think I'm in heaven! (to Boomer) Look at
this
! (shows him a big casino) These are incredibleodds here. And so many tables ... I'm telling ya, gimme a secton and I'll be buying the whole station!
BOOMER: Be careful, Starbuck. You are not familiar with the local customs and traditions. They may be our brothers and sisters but you don't know how they would respond to a notorious player like you.
STARBUCK: Boomer, what's happened to your sense of adventure? I have to maintain a reputation that runs ahead of me with lightspeed.
BOOMER: That's exactly what I mean. Just be careful that itdoesn't get too fast for you to hold on to it. (leaves)
Starbuck enters the casino.
LADY (at a table): Hello, handsome. Would you like to play?
STARBUCK: Only if you show me how it's done.
LADY: You're welcome. The game is called roulette. You either bet on a colour or a number. If the ball meetsyour color or number you'll win.
STARBUCK: Hmm ... (puts a Cubit on 17 black)
GEBER: Rien ne va plus – no more bets, please. → 17 noire wins!
STARBUCK (gets a bunch of chips, grins): I think I'll love this game!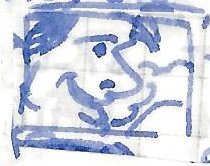 Apollo is sitting alone at a table in the lounge. Cynthia is coming.
CYNTHIA: Excuse me, is this seat taken?
APOLLO: Oh, no, please sit down.
CYNTHIA (sits down): Phew, the arrival is very stressful, isn't it? I've never seen you here before. Is this your first visitto Sigma?
APOLLO: Yes. I'm from Galactica.
CYNTHIA: Oh, that's wonderful! Yaknow, actually I thought that you would look differently. Small with big eyes and gray skin.
APOLLO: Sorry to disappoint you.
CYNTHIA: Oh no, on the contrary ... Cynthia. Cynthia Thaunders! (shakes hands with Apollo)
APOLLO: Nice to meet you. Apollo. Captain Apollo.
CYNTHIA: Oh, the God of light.
APOLLO: What do you mean?
CYNTHIA: Apollo, son of Zeus, God of the arts, medicine and light. I'm historian and lecturer at the local university. My specialty is the "Imperium Romanum".
APOLLO: Interesting.
CYNTHIA: What's your surname?
APOLLO: We don't have one.
CYNTHIA (surprised): ... Then you have to be pretty creative to avoid confusion ..!
APOLLO: In case of doubt we use additions such as places, profession or kinship.
CYNTHIA: Interesting.
Apollo and Cynthia smile at each other.
BOXEY: Father, we'd like to take a look at the rest of the station. May we join the tour?
APOLLO: Of course, Boxey.
ATHENA: Well, we must hurryin order not to miss the group! (leaves)
CYNTHIA: You have a son?
APOLLO: Actually he's my adopted son.
CYNTHIA: He has his mother's eyes.
APOLLO: Yes, he has. ... Oh, you mean Athena? She's my
sister
.
CYNTHIA: Then your wife is still on the ship?
APOLLO: My wife is no longer with us.
CYNTHIA: Oh, I'm sorry ...
APOLLO: It's alright, you couldn't know that ...
Galactica. Adamas quarters.
HOLBROOKE: Thank you very much for your hospitality, Commander.
ADAMA: That goes without saying, Mr President. On behalf of my people I can't thank you enough for allowing us to stay here. Regarding our situation you could have sent us away.
HOLBROOKE: The Cylons are after every human being. Only together we have a chance to survive. In the last few years, we have disarmed tremendously. There are no more wars on Earth and Mars, aside from a few issues with pirates. The Cylon threat has taken us completely off-guard. We never believed we would get dragged into a war again. The most important thing will be to develop an effective defense strategy to protect our sector. ... Mmh, that tastes great. What's that?
ADAMA: Ambrosa. Unfortunately we don't have much of it left.
HOLBROOKE: I'm sure there's a way to synthesize it. ... However, yourconcerns are justified. Large parts of the population think that you have brought us a war that would not exist without you.
ADAMA: President Holbrooke, you know as well as I dothat this is inevitable.
HOLBROOKE: Exactly. I'm sure the detractors will change their minds when the Cylons come ..!
Both cheer and take a sip.
_____________________________________________________



There are those, who believe…



_____________________________________________________

​
Last edited: