Co-Administrator
Staff member
Administrator
Moderator
Aug 1, 2009
8,547
6,873
183
GALACTICA 6551 :

4. Earth Gate

_____________________________________________________


by Marcell von dem Berge

(© 05.03.1999 / revision 7/2017)


_____________________________________________________



Based on the classic television series BATTLESTAR GALACTICA created by Glen A. Larson
and on characters created by Glen A. Larson.
Battlestar Galactica © ® & ™ Universal City Studios.
No infringement intended.
No commercial use.
This script is free. It is a non-profit fan project and for personal use only.



_____________________________________________________​
A baseship is entering the debris field created after the battle against the Terran destroyers.
IMPERIOUS LEADER: Speak, Centurion!
CYLON: We are approaching a battle zone. A fight has taken place recently. Sensors show remains of Colonial Vipers and numerous pieces of an unknown type of ship. It is similar to those involved in the destruction of the base on Ketma II.
IMPERIOUS LEADER: That's it. We are on the right path. Calculate a course from the Harkaria system to the combat area and beyond and extrapolate possible search vectors!
CYLON: By your command!
School ship. Apollo, Starbuck & Boomer are standing in corner, following the class.
ATHENA: Class, today's topic is First Aid. And since nobody knows more about it than the people from the Life Center, Cassiopeia will explain some important basics to you.
CASSIE: Hello children. Well, as Athena said correctly, First Aid is an important topic that should not be missed in any course. Everyone should know what he or she needs to do in case of an emergency. I need a volunteer for my demonstration. So who would like to assist me?
Boomer & Apollo are standing behind Starbuck. Boomer takes a Cubit out of his pocket, throws it on the floor.
STARBUCK (hears the bouncing coin, looks down): Oh! Weird ... (takes a step forward to pick up the Cubit)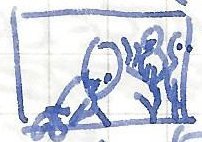 CASSIE: Starbuck!
STARBUCK: Erh ... yes?
CASSIE: Come!
STARBUCK: Huh?
Cassie takes his arm and pulls him in front of the class.
APOLLO: (to Boomer): That was
not
nice.
BOOMER: ... She needed a volunteer.
APOLLO: Oh, well then ..! (both are grinning)
Starbuck is smiling to the class.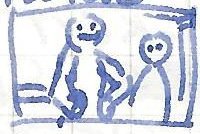 CASSIE: Well, the most common cause of accidents is the improper handling of sharp or pointed objects. If you cut yourself you'll need to put on a pressure bandage. (takes Starbuck's left hand) Okay, let's imagine Starbuck has cut his hand while cutting fruit.
STARBUCK: Oh no, I wouldn't cut any fruit now. Not since I'm wearing my clean uniform ..!
CASSIE: Starbuck, this is just a demonstration. Nothing happens to your clothes.
STARBUCK: Thank the Lords. You know, I don't do things by halves. When I cut myself I do it right. Two severed sinews, blood all over the jacket, the pants, the floor ... maybe the wall, too! Bone chips everywhere ... (children giggle)
CASSIE: ... which we will collect later. Starbuck, when children are involved you may only cut yourself gently, otherwise they'll get scared.
STARBUCK: Oh, yes, right.
CASSIE: Okay kids, let's imagine the cut is bleeding heavily.
APOLLO (to Boomer): I hope he's still able to fly after that ..!
Cassie is bandaging Starbuck's fingers.
STARBUCK: Are you finished yet? I've already lost three liters..! (children laugh)
CASSIE: Stay still! ... See, finished!
Starbuck presents his bandaged finger.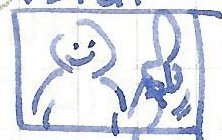 CASSIE: And now I'll show you what you'll have to do if you have broken your arm.
Cassie gets a splint and compresses, Starbuck looks shocked, kids laugh.
APOLLO (to Boomer): I'm telling you, when class is over he'll be wrapped up like a mummy and we'll have to carry him out of here ..!
BOOMER (to Apollo): Where shall we put him?
Viper patrol.
BREE: I don't mean to complain but I'm really fed up with these deep space recon missions.
BOJAY: No kidding, Bree!
BREE: I can imagine us spending aeons out here until we find Earth. What if the direction is wrong or Earth does no longer exist?
BOJAY: We'll find out soon enough. Be patient.
BREE: You really think so?
BOJAY: You may start praying as an alternative.
BREE: Very funny.
BOJAY: No, seriously. Sometimes it work wonders.
BREE: ... Dear Gods, I am small, my name is Bree, please show the way to Earth to me. What do you think?
BOJAY: Well, you can. That wasn't too bad for a start.
Suddenly a wall of glistening light appears right in front of the patrol. The Vipers take evasive actions.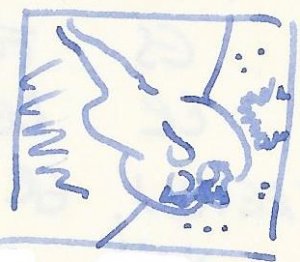 BREE: Bojay!
BOJAY: Frak! What's that?
BREE: No idea. My instruments have gone crazy. The readings are beyond the scale! Bojay, veer off! Now!
BOJAY: I can't! It's pulling me in!
Just before he is pulled in the light goes out. He recognizes five huge floating metallic structures that define the edges of the light wall.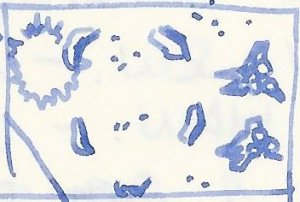 BOJAY: What the frak..?!
BREE: Are you okay?
BOJAY: Yeah ... let's fly back and report.
BREE: Agreed. ... (looking up) Dear Gods, I promise, from now on I'll go to church regularly ...
BOJAY: What?
BREE: Stay out of this, this is a private call!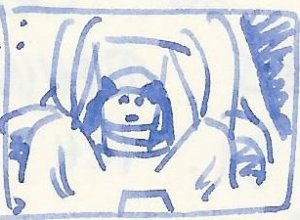 _____________________________________________________



There are those, who believe…


_____________________________________________________
​
School barge.
CASSIE: Okay, Starbuck, now you're unconscious and you have stopped breathing.
STARBUCK: That doesn't sound good ...
CASSIE: It isn't. Well, the correct actions can save lives. First you control the inside of the mouth. Remove anything that doesn't belong there. Then you the bend head backwards, squeeze the nasal wing. Now you open the mouth and gently blow air into the injured's lungs ...
APOLLO: She won't stop ...
BOOMER: I hope she doesn't take him for a balloon ...
Starbuck spreads his arms and hugs Cassie.
CLASS: Ooohhhh!
Apollo laughs.
CASSIE: Yeah, that's all for today. It's important that you understand the basics.
Starbuck wants to leave, pulls a cigar out of his sleeve and puts it in his mouth.
CASSIE: And always remember: (takes away the cigar) Prevention is better than curing.
STARBUCK: Hey! First you save my life then you take it away again from me ...
CASSIE: The privilege of a med-tech ..! (presenting the cigar to the class) These things are extremely bad for your health. Don't even start with it.
Starbuck reaches out for the cigar, Cassie smiles and shakes his head, Starbuck smiles back, pulls a second cigar from the other sleeve, the pupils laugh and applaud.
MESSAGE: Captain Apollo and Lieutenants Starbuck and Boomer: Please report to Galactica bridge asap.
STARBUCK: Phew, that one saved me.
BOOMER: Starbuck, you're the best-looking seriously injured man I've ever seen.
STARBUCK: Thank you. After the last exercise I seriously consider making this my second job. (wants to put the cigar in his mouth, Apollo takes it away) Hey! Buy some yourself!
CASSIE: By the way, I'll need a volunteer for the parallel class tomorrow.
STARBUCK: Fine. If you continue to give me artificial respiration ...
CASSIE: You're very qualified. Some more practice and we can start with the next lesson.
STARBUCK: When?
CASSIE: What about tonight, my quarters?
STARBUCK: I'll try to be as badly injured as possible.
​
Last edited: