So this is the forum for the OTHER stuff we do, huh? The stuff that isn't model-related?
I have a lot I can show here, but I'll start with just a few.
First up is my latest finished illustration. It's a gift I did for a friend, based on the Bible's description of seraphim in Ezekiel chapter 1. My concern was more to show the IMPACT of seeing the scene described, far more than a literal depiction of it. The medium is pen, brush, and india ink.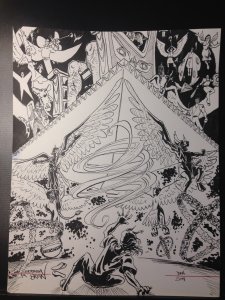 Next is a piece that's just getting started. It is meant to be a sort of heroes vs. villains-a-palooza, reimagining the "Panic in the Sky" storyline from the Superman comics of the 1990's with the New 52-era DC superheroes. Again, pen, brush, and ink. This is one half of a diptych, the other half of which will have the villains on it. The next pic is the pencil sketch for the villain side.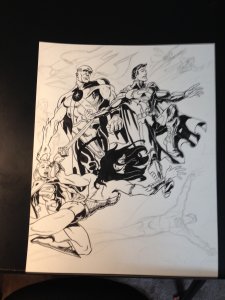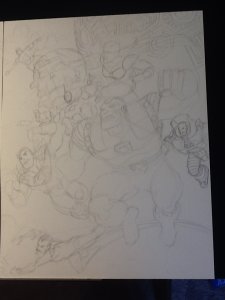 The next pic is a piece I did on commission. I took the client's son's name (Elijah James), researched the meanings of it, and drew a piece that represented his name's symbolisms.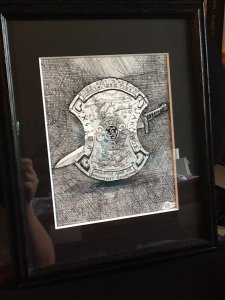 Next is an image that's very personal to me - it's my personal attempt to symbolize the Trinity - God the Father, God the Son, and God the Holy Spirit. It's called "Trinitatis."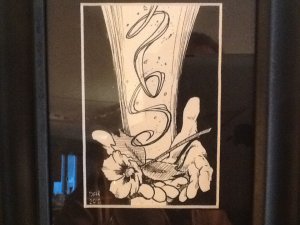 Last is a piece I did featuring Henry Cavill doing a classic "shirt rip" scene, with the "Man of Steel" movie costume underneath his civilian clothes.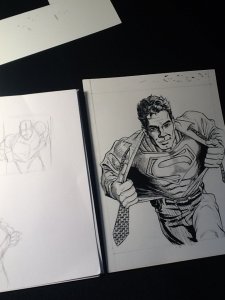 More to come...