Mar 9, 2018
172
312
40
55
Hey guys, Its been some time since I have posted here. As you can all imagine life here in my little part of the world has been pretty hectic. With the holidays, Covid and a couple mini-home disasters I haven't had much time to focus on any one build. Since we last spoke I have purchased a 3D printer (2 Actually) and I'm trying to get to know and understand the machine and its software. I've also been obsessed with Battlestar Galatica and various ships of the fleet. I've found a bunch, downloaded the files and printed them. Almost none have been finished but I just keep pumping them out. I thought I would share my latest print here because it turns out it has originated from this site
Battlestar Saturn
I love the concept and decided to do my own variant of this ship. To do this I found a file out on Thingiverse of a low res version of the Classic Battlestar Galatica and printed it out (Almost) to the scale of the original Monogram Galatica. At 18.5 inches this is a beast. There are some high res versions but it would take a lot longer to print, use more filament, and because of some of the modification it would be obliterated a lot of the greeble detail and in some cases may not look right when finished. Another alternative would be to buy the Monogram or Moebius Galatica's (2) but those kits when found are coming in at $100 or better. 3D printing just makes more sense. The Saturn is a cool looking ship with the quad landing bays but its a bit "clunky," and the added bulk of the additional launch bays makes the back end of the ship look incomplete. I printed out two copes of the parts and started hacking.
I brought the landing bays closer together and added a second engine. I than mounded the engines on a vertical access.
Here is a very rough mock-up of the ship. I am searching for a name that is befitting of this behemoth. I was thinking either Colossus (Because of its size) or Ares, for the God of War. Seems fitting to me but I'm open to suggestions.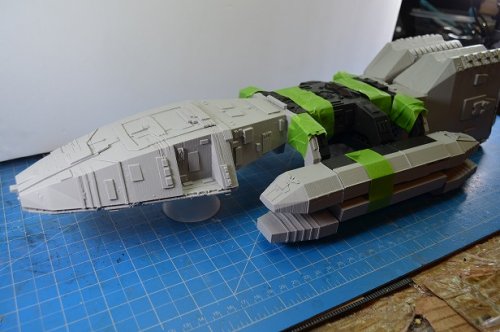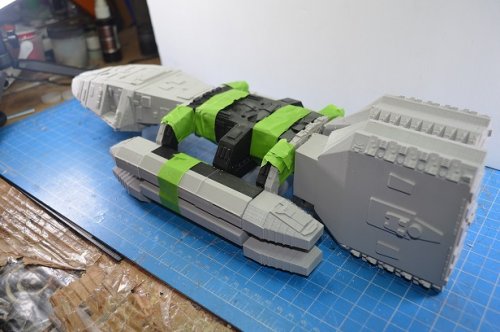 Thanks for taking the time to look at my silly little project
Last edited: