I recently was going thru an ad and found an RDC for $14.99. Up until last year, I think they were up around 50 to 80 bucks. And a Proto1000 at that.
I ordered it and low and behold, it cost almost as much to ship it from NJ to Idaho as the unit cost! Anyways, I knew it wouldnt be DCC Ready, but Proto1000s are usually pretty good about doing things to get it ready to be ready for DCC.
Sure enough, I open it up and on the control board, it says to cut X for DCC then it had a series of places for wires, labeled p1 - p8, with p3 missing. A short trip through Google later, I found which wires needed to be where and voila... DCC. Got my DCC chip that someone in the club didn't want (it wasnt a digitrax chip...*gasp!*) and wired it in. Not the best soldering job ever, but it worked.
Well, this was all well and good, but it needed 'something'. So, I got out my box of peoples and found that I had bought 6 seated figures at a swap meet a year or so earlier for 3 bucks. This was my lucky day.
Took them into the dining room table, where my wife was quietly knitting, and proceeded to try to get these lil guys in. They wouldn't quite fit. Then I saw the issue... the feet were hitting the seat in front and thus keeping the folks from sitting properly.
I get the kitchen shears and proceeded to amputate my first victim. Now, I have always had a weird sense of humor, and I was at that time reminded of the leg cutting scene from "Gone With The Wind" and started screaming NO, NOT MY LEG.... NOT MY LEEEEGGGGG!!!!
My wife hates it when I do things like that. She jumped a good 2 feet or so and accused me of being a sadist. And for the life of me, I cannot figure out why I kept the amputated leg s, but... well, here they are...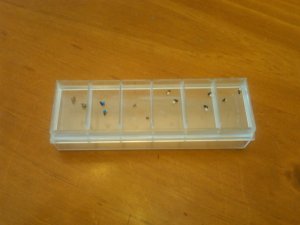 The next day, I took the RDC over to the club and ran it around...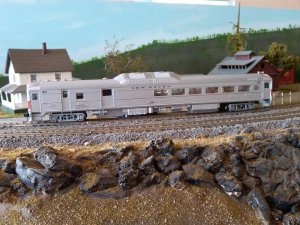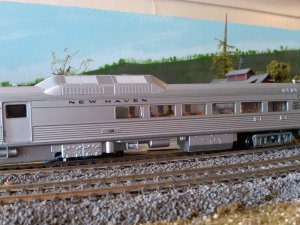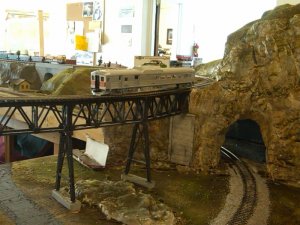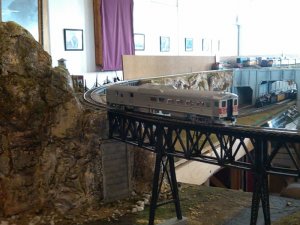 Next, I am hoping to re-do the lighting. The bulbs are just too dim now. I think I will have to play around with it to get it like my friends N scale Kato RDC. On his, a red light trails, and when you switch directions, so does the lighting... I think LED with yellow and red might work...
For ~25 bucks, I got a Proto 1000 RDC wired for DCC and peopled. Not too shabby.
George