Dec 15, 2008
2,624
351
78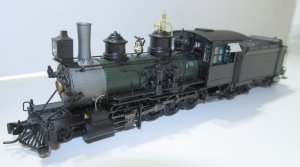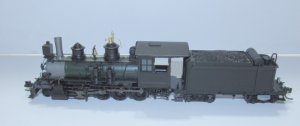 I started a separate thread for this Blackstone c-19 review, rather than fold it into my Hon3 shops thread, because this locomotive doesn't need a trip to the shops, except for some light oiling and some cosmetic work (pureley to help it fit the SL roster, it looks fine!)
I pre ordered this locomotive when it's production was announced by Blackstone. I was approaching having enough Hon3 power, but I had been lobbying Blackstone to make a locomotive that would look at home outside Colorado for so long, that when they finally did it, I felt duty bound to pony up to the bar and put my $$ where my mouth was..
I ordered the early version, painted /unlettered with sound. This is not an inexpensive locomotive! That said it is reasonable. The level of detail is excellent. The detail level is better than my 1970's era Westside Models C-16, which cost me$260 , That locomotive needed to have a re motor kit, which cost about an extra $100, It also needed to be painted, a tsunami sound decoder would add considerable cost as well, so this thing at close to $365 is a good deal, as the good motor and the Tsunami sound decoder, and a good paint job are included, saving considerable cost and effort.
I have found sound Dual mode decoders to be somewhat annoying when operated on Dc. My other experience with this comes from an Atlas Proto 2000 USRA 060 with QSI sound, a Broadway Limited Paragon 2 Y-6-b, with whatever they use, and a Bachman 0n30 climax (also with a tsunami). I was pleasantly surprised with the sound and operation of this critter on DC. I can live with the operation of this locomotive on DC. It's performance is better even than the Climax with a Tsunami. Perhaps that is because Blackstone is a division of Soundtrax, so the same folks developed the locomotive and the decoder.
I am very pleased with this locomotive. It will need to get a red roof. My State Line RR Locomotives have Green cabs, but this locomotive has a green boiler , so I think I'll leave the cab black.
so far I can highly recommend this locomotive. the folks I know that have bought their K class locomotives have recommended them both for quality, and for customer service. The K's are too big to suit my taste, so this is my first experience with Blackstone. thier rolling stock has also been highly recommended.
Blackstone has changed the nature of Hon3 modeling, you no longer need to be a builder or a tinkerer to have great running models in this scale/gauge combiniation. I have been modeling in Hon3 since 1969, and this is the first steam engine I have bought that did not need modification. Con-Coor's excellent geese were the first Hon3 motive power to be great runners out of the box, but they didn't follow up with other releases.
The Hon3 world has changed folks! Come on in The water is fine!
the above is a link to a video of two of these locomotives @ the narrow gauge guild club in Pasadena California. this link shows how good they sound.
Bill Nelson
Last edited: