Sep 29, 2018
466
1,242
75
40
...and where my 3D printing is presently focused!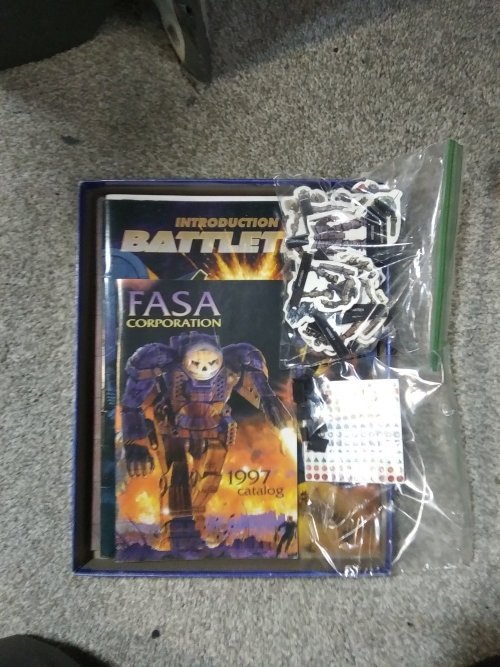 So, I've 'retired' my starter box that I acquired in the late 90's. I had all the components still, and reloaded them into this box and put it on a high shelf for display only. After all, I now have the new Catalyst Game Labs Introductory box and a number of the current rules books (Total Warfare, Tech Manual, Tactical Operations, etc).
What I had trouble finding, were mechs though. See my other post in Resin about my 3rd party build using some awesome resin miniatures... I just struggle with letting my sons use those however, so I needed some more durable mechs. People have been 3D printing the Mech Warrior Online models (and a few modified 3d meshes from earlier Mechwarrior 4 and 3 single player games), so I gave it a shot not expecting much from my FDM printer (Lulzbot Taz 5).
Here are a couple of Urbanmechs I printed. Left we have one that is viable for 15mm (1:100th) scale table top games, or decoration, and on the right, the 6mm (1/285th) scale used for Battletech on the map sheets or miniatures rules.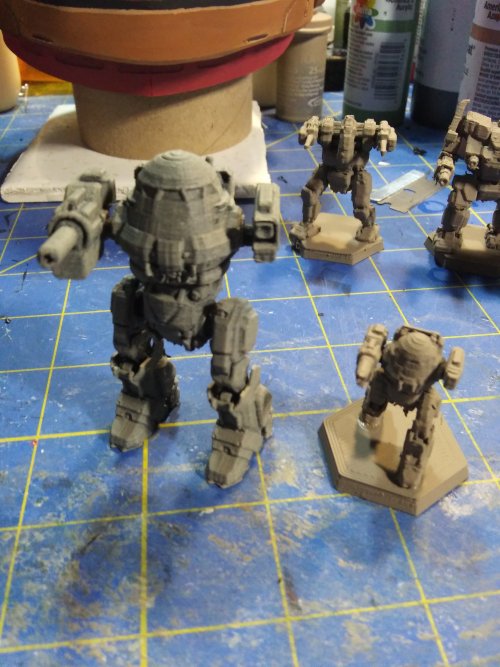 Just to the rear, you also see a primed Blackjack and Awesome in the 6mm scale. These all had a layer height of .14mm and a 20% infill. I found the need to use a raft as the feet on the 6mm scale are too small to effectively sit on my PEI print bed. They required support, and I used zig-zag at 30% at first but had to re-assemble the small ones a lot as that was too dense and pieces like feet and gun barrels fell off while I removed supports!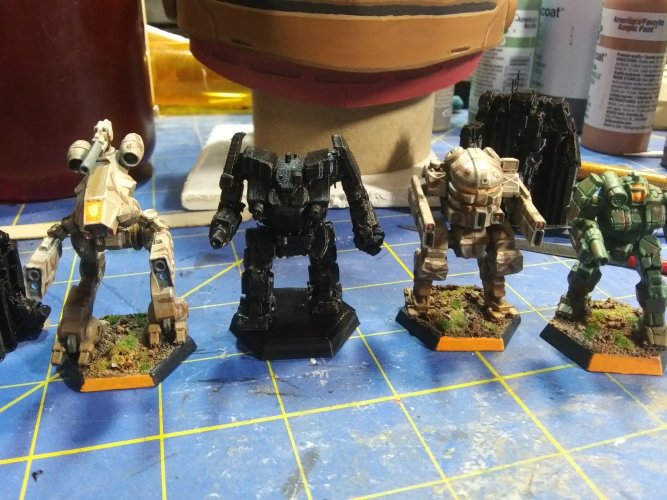 Here is the Awesome next to the resin Stratos Minis (Bullshark on the left, 3D print Awesome, Flashman, and CGL Griffen). I learned NOT to print in black for these in the future. The visual pain of trying to clean up black 3D printed plastic was enough... I will print the bases black however, as they have little detail I need to worry about, just some basic sanding.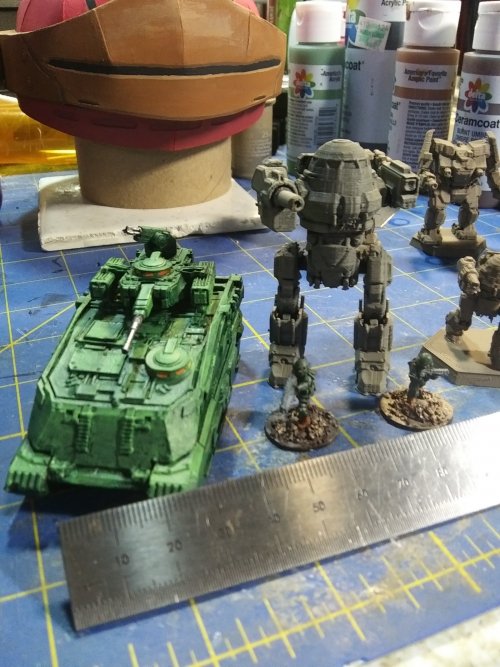 Finally, I had to put this Urbie next to some of my 15mm army and see how it compares, and yes, it works perfectly. I'll try to dig up which model I printed on Thingiverse and post it later. I'm very pleased with the level of detail from the larger scale, as a final product. 6mm scale, well, the detail is good enough to serve as proxies until I get some better models (as in the plastic or pewter and resin kinds). In the mean time, I have some fun models to paint in odd ways, as well as some great beginner miniatures for my boys to paint.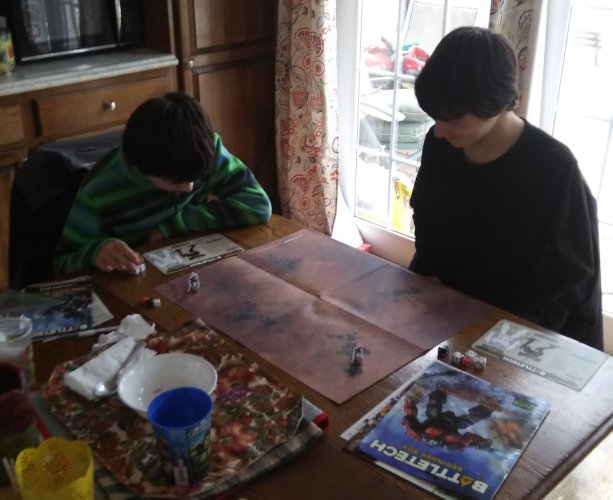 After all, this is the real magic!