Co-Administrator
Staff member
Administrator
Moderator
Aug 1, 2009
8,536
6,859
183
OK folks, I couldn't keep myself from tackling this little bugger
: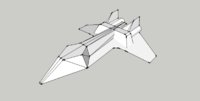 This is another unused Colonial Viper concept by Andrew Probert. Like the Stellar "Scarab" Probe concept (which you can see here:
http://www.zealot.com/threads/battlestar-galactica-stellar-scarab-probe-concept-viper.177064/
) this vessel has no official name. Judging from its shape I think it could be a futuristic consular or private transport vessel like a Learjet or a reconaissance probe. Since the background of this ship hasn't been explored yet I call it the "APV Space Cruiser" ("APV" stands for "Andrew Probert Vessel"
).
The modelling is in its early stages. Next will be the bottom and the engines.