*****SENIOR ADMINISTRATOR*****
Staff member
Administrator
Moderator
Apr 6, 2013
12,267
7,653
228
I worked for many motorcycle dealerships, and always had a dealer bike. It was part of the pay package. I would put 5000 miles on a new bike, then it would be sold, with a warranty, at a really good price. I can't even remember how many bikes I have driven this way, but it covered many makes. Sometimes we would get Ducatis and other more exotic bikes, and I would grab those. I rode a 650 Ducati Pantah at 130 mph up the Taconic parkway, while my friend was on my GS750ES Suzuki. Two completely different types of bikes, both doing the same thing. The Ducati was forgiving, hard as Hell to make learn over, while my Suzuki anticipated your move, and you had better be right. I have driven that bike off the side of the tires, but always managed to get it back up, sometimes a hard kick to the ground, most of the times a slight rotation of the handlebars. Funny thing though, because I got to ride all those bikes, I still have the first bike I ever purchased, a 1975 CB400F (now a Yoshima 458 cc Cafe Racer0 and my 1983 GS750ES, which I still ride, and actually rod just 3 weeks ago. The Honda had 75,000 miles on it before I blueprinted, and set up the motor for racing, and my Suzuki has 40,000 miles on it, and runs like a fine watch.
The pic below is pretty much how my Honda looks now, similar fairing, except it is Red, and I have a single person seat on it. (it's "pickled" in my Barn, no recent pics), I was clocked @135 MPH on that bike, 6th gear, 14,500 r.p.m.'s, Kazio Yoshima made my carbs into smoothbores, and hand bent the pipes, then dyno-tuned the carbs to the exhaust, he had my cylinder head and worked on that too. In 1977, the overhead camshaft chain alone cost me $175.00 dollars!! The forged pistons, Radical Camshafts, the engine cost a fortune to make, but with everything off the bike, it only weighed around 350 lbs, and was a monster at 9000 to 14,000 rpms. Every biker I know whats to buy that bike from me. Stainless steel spokes, with Gold Anodized D.I.D. aluminum rims: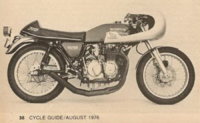 Pic of my Suzuki (not mine, same thing though)again, I have no idea where pics are of that bike. It's about 60 feet from me, under a tarp, if it was daytime, I'd take a pic. Too bad it's so cold and wet right now. I just took it out of the Barn around a month ago when it warmed up, I have the same fairing on mine. They sold them for only 1 year and are impossible to find. That wind screeen, when last available from Suzuki (no longer is) was $650 dollars, what a rip-off!!:
First bike with a 16" inch fron wheel, anti-dive front forks, and a Full floating mono-shock rear suspension. It doesn't weigh that much more than my Honda!!