Jan 18, 2021
240
1,060
75
41
I've been looking at this model for a long time. My question is, did anyone build or buy it? Since the model is not cheap, before buying I would like to read the instructions to understand how complex this model is.
Maybe someone has met the construction of this model on the net?
Maybe there is a model designer Ken L West on the forum?
In this thread, after the purchase, I will start the build.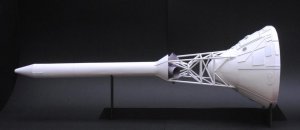 1/12 Apollo Command Module Paper Model THIS IS A DIGITAL DOWNLOAD KIT TO BE PRINTED BY THE BUYER. NO PHYSICAL PRODUCT WILL BE SHIPPED.
ecardmodels.com
Paper Model Details:
Over 127 pages of parts!
Including joiner strips, internal and external detail parts.
38 pages of instructional diagrams.
Degree of Difficulty: 5/5.
I already like the short description! 127 pages of parts is so cool and I already want to build it.