Gosh, Paw. What's so hard to understand? It's a GALAXIE.
Well, son, some folks are just hardheaded.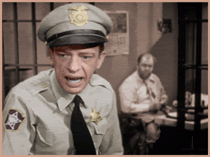 We've got to nip this in the bud! I'm going out to the GALAXIE squad car and drive over to see the easy girls in Mt. Pilot.
Gosh Barny, can I come along?
Now just hold on. Your aunt B will be mighty disappointed to find out you've been running around in our GALAXIE squad car with loose girls, Opie.
Gosh Paw, I promise to use protection.
Welllll, I guess it'll be alright, just make sure your home for supper.